Tian Wei Signature Confinement Food Catering
Dining
Experience
Tian Wei Signature Provides Catering Service Of Confinement Meals In Singapore And Is Absolutely A Wonderful Choice That You Wish Not To Skip
Tian Wei Signature began with our desire to create appetising meals for confinement mothers so that they do not miss out on the essential ingredients needed to boost their recovery.
With the intention to bring you the best confinement food with Mediterranean fusion. Not only that, we also provide a variety choices of Japanese confinement food for mothers who likes to tryout something new. Our head chef, Chef Eugene has acquired over 16 years of experience and is skilled in preparing healthy and tasty meals to suit the needs of his clients. Tian Wei Signature has put on a brand new "outfit" for those traditional recipes to boost your senses, helping you to have good appetite especially after birth.
Tian Wei Signature desire not only to bring you good dishes but would also like to introduce you the food culture of confinement days. For mothers, confinement period is mainly a time to rest and replenish their bodies. We also believes that confinement meals are vital as they help to boost the mood of mothers, as well as replenish their bodies with the essential herbs and ingredients. Therefore we have come up with a unique meal plan by incorporating a Mediterranean and Japanese twist to spice up normal confinement meals. The menu comprises of various dishes which are improvised to make them more appetising.
Our
Commitment
In Tian Wei Signature's kitchen, we are committed to using only the freshest and healthiest ingredients for cooking. Furthermore, our menu is carefully planned and reviewed by our award-winning chef and in-house dietitian. We believe that preparing a wholesome meal with a wide variety of nutritious ingredients is the key to a healthy diet after childbirth. All ingredients used are carefully hand-picked by us, freshly prepared daily, and served warm at your doorstep.
Not only focus on the look but also the quality of every dish we serve. The quality of food prepared in our kitchen is guaranteed as we select only the best and qualified staff for our team. All our team members are trained in culinary and the confinement industry. In our kitchen where all the staffs are well trained to maintain the cleanliness and hygiene of the highest standard for food preparation at all times.
At Tian Wei Signature, we believe in pampering new mothers during their time of recuperation. So we offer to you a new, diversified confinement menu, and an experience unobtainable elsewhere. We promise to bring out your best appetite at all times.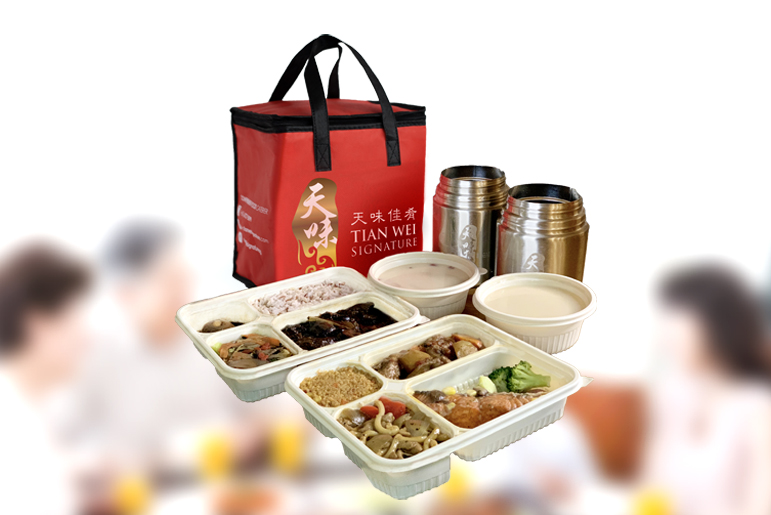 Taste
The Love With Our Package
Book Your Package Today!
Our menu says it all. Bringing mothers through their confinement the tastier way.
View Package

Regarding
ReLacto
While Tian Wei Signature's main appeal revolves around traditional and fusion confinement meals, ReLacto was birthed in order to cater to your needs and wellbeing as a nursing mother from the second month onwards. The menu is planned by our very own in-house dietician Eunice and head chef Eugene for a tasty, healthy, and enjoyable postpartum experience!
Go to ReLacto