5 Reasons to Opt for a Confinement Meal Caterer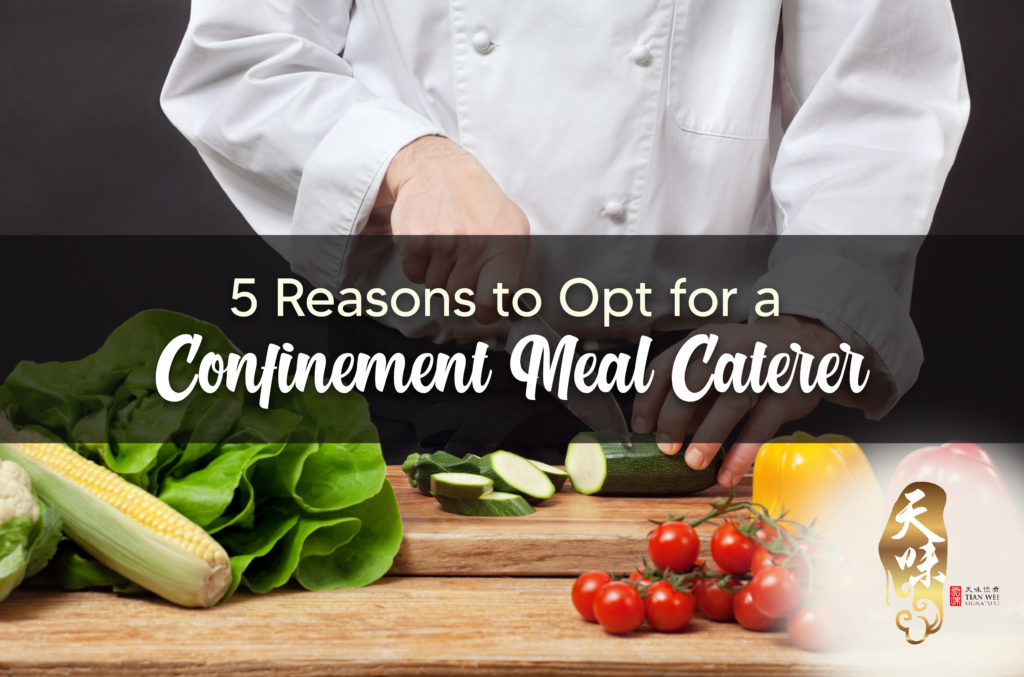 Stepping into motherhood is never easy, but somehow sharing the load with others can be even harder to do because there are just too many things to list, isn't it? And even after sharing how you feel, the heavy feeling still remains. Such is the inexplicable feeling of becoming a mother.
However, you have to try to open up and accept as much help as you can get to relieve your burden. Between feeding, changing, comforting, burping, and putting your baby to sleep, you are already left with very little time to take care of yourself.
Your body has just undergone a series of changes during pregnancy, labour, and childbirth which left your body feeling weak and perhaps traumatised. A good rest and healthy diet during the first critical month of postpartum confinement are ideal since they can help revitalise your body and help boost recovery.
In the past, relatives would offer their hand to take care of the new mothers during the one-month confinement period. However, times have changed, and many people now consider getting different forms of help such as hiring a nanny or going with a confinement food caterer to take care of them after childbirth. Most importantly, such service providers will provide nutritious meals and confinement soup packages for any new mother in Singapore.
Many mothers have been looking for pocket-friendly alternatives to enjoy professionally cooked meals that will restore their strength as quickly as possible. This includes signing up for a confinement meals delivery service to provide well-prepared meals throughout the confinement month. Hiring such caterer is ideal for any mother during confinement due to the following reasons:
Professional Training
Some relatives and nannies may end up providing traditional meals that have been served repeatedly. However, a confinement caterer like Tian Wei has a team of chef and kitchen crews who have undergone extensive training on modern confinement meals and diets that can be more nutritious and tasty than traditional meals.
We also provide confinement soups for people who want specific herbs in their broths. It will be like having your own private chef or team who cooks up various foods for you! We are able to provide a variety of meals since our chef knows exactly what will be ideal for your body and the nutritional value each meal brings to you and your child. Speaking of meal variety, this brings us to the next point:
Wider Variety of Meals
Having your family member or your helper cook for your confinement may result in you being served with the same kind of dishes or even the same exact dishes over and over again. At Tian Wei, our meals are very minimally-repeated. You will seldom come across similar dishes, be it meat or veggie dishes.
We have a wide-ranging menu comprising both traditional Chinese confinement dishes like Pork Trotter Vinegar and Sesame Braised Chicken, as well as fusion dishes inspired by Mediterranean, Japanese, and Western cuisines. Some of the fusion dishes you could enjoy from Tian Wei are Seared Salmon with Cauliflower Cream, Coq Au Vin, Goma-Ae Grilled Chicken served with Miso Soup, and many more!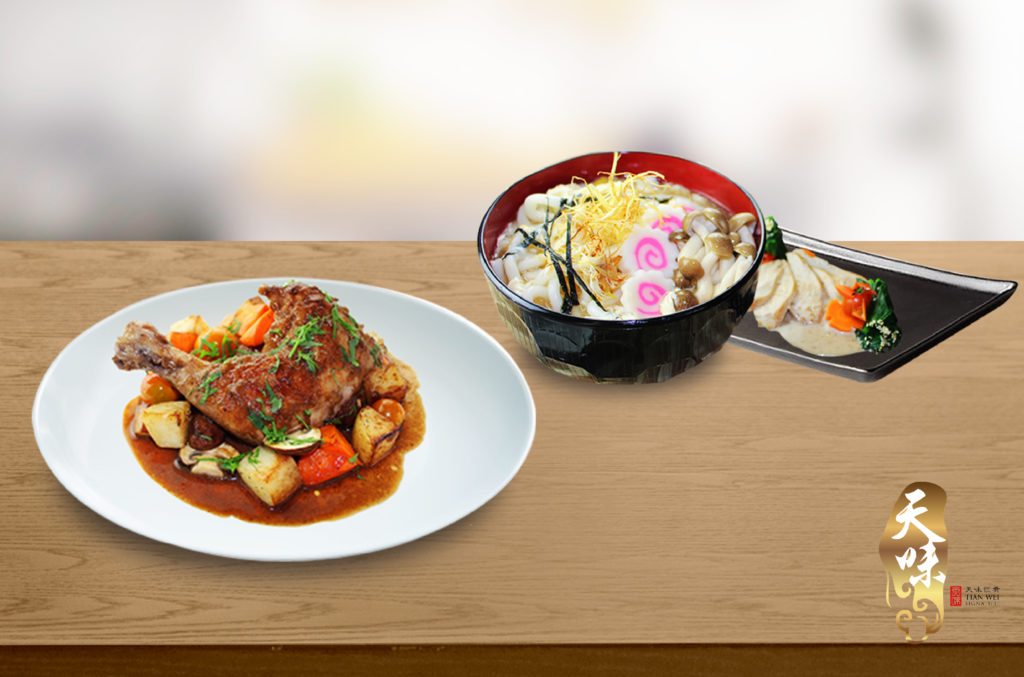 Minimise Hassle & Stress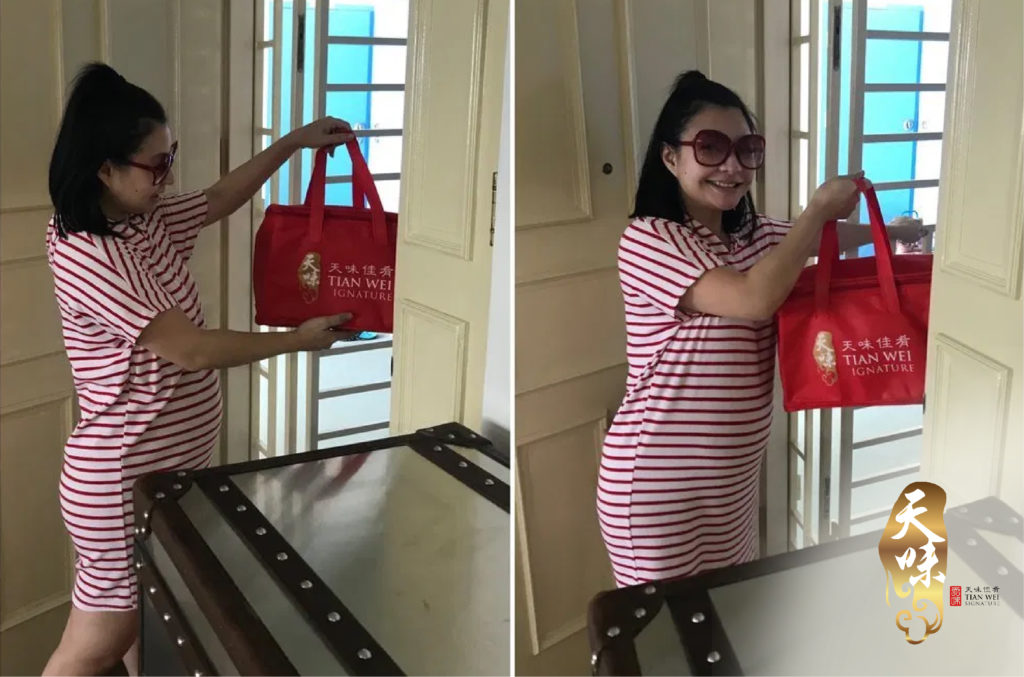 Some caretakers or nannies do not have the ideal recipes and skills to prepare the best confinement meals. This means the mother has to come up with the recipes for the caretaker to follow during the confinement period. The mother also has to worry about the cost of purchasing specific ingredients. A caterer, on the other hand, takes the burden from the confined mother allowing her to enjoy time with her newborn child. She only has to worry about paying her and selecting the meals provided in the menu, which anyone in the house can do comfortably.
Years of Experience & Custom-Prepared Meals
Caterers have been taking care of confined women for years. This means they have a proven track record of years of home food delivery. They will customise your meals depending on your body right from the first week to the last week of confinement. During the first week, they will provide meals for balancing the body, the second-week dishes keeps the body warm, while the third week aims at repairing the body.
Confinement caterers in Singapore are increasing in number with most of them providing attractive meals and confinement soup package in Singapore. They have helped hundreds of women restore their strength with their customised services. People who do not know anything about confinement do not have to worry since a caterer will just be a call away, to listen to your needs and provide solutions during the one month you will be stuck in the house.