5 Tips on Confinement Care & Recipes
Our babies are the centre of our universe. This is how all moms feel, and their behaviours reflect this. However, as much as our infants require us, we also require them. Giving birth does not imply that you have given up on yourself. In fact, it is more crucial than ever to take care of oneself. It is not bad to prioritise your kid since you want the finest care for him, and who better to provide that care than you?
However, don't forget about yourself too. To be the greatest mother you can be, you must be in peak physical shape. So, the key is to strike a balance between motherhood and yourself – that is, to practise self-care, and it should begin as soon as your confinement begins, since this is a critical and sensitive phase for both body and mind.
Here are some of our tips on confinement care and some simple recipes that you can throw together in a pinch.
Eat healthy
This may appear to be a simple task, yet it might be tough to do. It is normal for a woman to be preoccupied with her child after giving birth. There is, however, a rationale for the confinement time. It is for you to recover and regain energy, and what better way to do it than to eat well?
To stay fed, eat a variety of fruits and vegetables. To avoid dehydration, drink plenty of water. Caffeine and alcohol should be avoided. If you are hungry in between meals, snack on healthful foods like nuts, seeds, fruit, vegetable snacks or yoghurt. Not only are you ensuring that you are on the road to recovery with the correct quantity of food, but you are also nourishing yourself and your baby through your breastmilk. So eat something. Eat for both your kid and yourself, and you'll both thrive and shine.
ME-time
Self-care does not have to be challenging. Sometimes all you need is some alone time to collect your thoughts or simply snooze for a while as a sort of rest and self-therapy. You'd be surprised to learn that taking some time out to focus on yourself may be beneficial and even a source of energy to help you get through the challenges of parenting. It may be instinctive to want to be always there for your child, but it does not have to be 24 hours a day, seven days a week. Reaching out to your friends and family for that short break during the day or once a week just to take an afternoon nap, read a book, watch a movie, and get a massage, could be all you need to keep going. It's the tiny things that keep you true to yourself and, well, sane.
Sharing is caring
The obligations that come with being a parent may be daunting, especially when you're just getting started. A strong body will propel you ahead, but a strong mind will help you persevere. Postpartum depression may affect any woman who has recently given birth to a child, and it is a difficult condition to overcome. And if you're always with your infant, it's possible to become lonely, which may be a push in that direction.
A baby cannot converse with you or offer you the same level of comfort and connection that an adult can. Talking to others around you may help to relieve tension and anxiety, as well as add some additional positivity to your life. Talk to a good confinement nanny if you're apprehensive about taking care of your infant. Talk to other mummies if you're feeling lost. Talk to your friends and family if you need to break away for a while. And having your hubby around to talk about anything mundane might just be a fantastic pick-me-up if you're feeling a little down. Sometimes, all it takes is a simple discussion to dive into fears and wipe them away.
Recipe Corner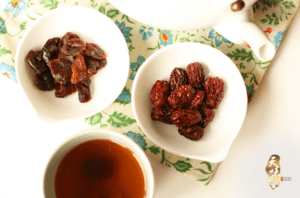 With the tips done and out of the way, let's welcome you all to our recipe corner where we will show you some simple confinement recipes that can help you through your confinement.
Quinoa
This can be the side dish or the staple to substitute your normal plain rice with. Highly rich in protein, quinoa is said to be able to help with digestion and recovery. It contains magnesium, iron, calcium, and abundant antioxidants. 
Not to mention, many mothers have claimed that quinoa also helps increase their milk supply! Bonus point: you can cook quinoa in a large amount and keep it for days because it keeps well. Now just which mom wouldn't love that?
Ingredients: 
1 cup Quinoa 

1 cup (or 1½ cup) Water 
Preparation:
Add water and quinoa into a pot

Stir well to evenly moisten the quinoa

Leave for around 15 to 20 minutes

Once it is done, keep warm for up to 20 minutes and transfer to a container to cool before storing.
Braised Chicken
If you ask us, this is what comfort food looks like! Braised chicken (or braised chicken with black fungus) is a homestyle dish comprising flavourful, tender meat with the sauce seeping deep into the meat. Plus, chicken is undoubtedly one of the best sources of animal-based protein. 
Protein is incredibly crucial as you need to repair your damaged tissues from your pregnancy and delivery, which is why a lot of confinement meals that moms take would normally contain chicken and pork. It carries an abundance of nutrients that are good for your heart and that can promote weight loss. But enough about the benefits – because that would take us the whole day – and let's get right to the recipe!  
Ingredients:
Dried Chinese mushroom

Vegetable oil

Sesame oil

Ginger (thinly sliced)

Garlic cloves

Chicken (cut into small pieces)

Dark soy sauce

Cooking wine 

Sugar & Salt

Corn starch
Preparation:
Rinse and wash mushrooms. When they turn soft, wash again to remove any dirt. Trim stalks and soak until they are ready for use.

Heat up vegetables and sesame oil in a pot. 

Throw in ginger and garlic and fry until fragrant for several minutes. 

Add in chicken pieces and fry until they look solid. Continue to add dark soy sauce.

Remove mushrooms from soaking water and put aside half a cup of the water.

Add mushrooms and soaking water to the chicken. 

When the sauce is boiling, add cooking wine, sugar, and salt.

Reduce heat and let it simmer for about 45 minutes and stir occasionally.

On the side, make a mixture of corn starch and 2 tablespoons of water.

Pour the mixture over the chicken pieces and let it cook for another 5 minutes or until the sauce is thick enough. Best served warm!
Closing words
There you have it, two of our simplest confinement food recipes that you can make at home. If you wish to find more Chinese confinement food recipes, simply stroll on over to our menu at Tian Wei Signature. We serve confinement meals that Singapore mothers choose and trust, so you know we are the real deal! We have these dishes inside too, but with a healthy (yes, even healthier) twist and various essential ingredients. Curious and want to taste our confinement food menu recipe? Talk to us today at Tian Wei Signature!