3 Ways to Balance Postpartum Hormones Following Chinese Confinement Practice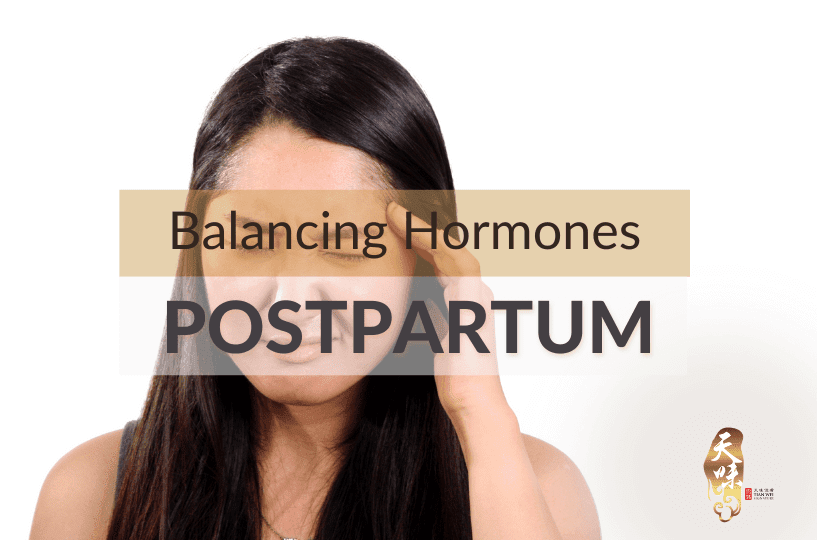 The birth of your little one is one of the most exciting times in your life. You feel amazing, perhaps even an indescribable high, when you hold your baby in your arms for the very first time. You get home, and a few days later, you notice that the high has lessened, if not at the other end of the spectrum. Why?    
Throughout pregnancy and during labour, the hormones oestrogen and progesterone, which are key to creating the "happy hormones" dopamine and serotonin, are at an all-time high in your body. After birth, however, progesterone, dopamine, and serotonin surging hormones plummet rather quickly. Simultaneously, there is a surge in oestrogen, prolactin and oxytocin – hormones that work towards creating an optimal environment for your little one. Besides that, when a mother becomes stressed out, her cortisol levels can increase, causing insulin hormone to be more resistant. This results in irregular blood glucose levels in the body. 
The roller-coaster of hormones, understandably, is what causes postpartum hormonal imbalance in most new mothers. Symptoms of hormonal imbalance may include: 
Anxiety and depression

Fatigue

Headaches or migraines

Low libido

Weight gain
If you are experiencing any of the above symptoms, do not worry. Firstly, it is common to experience any of these symptoms postpartum. Secondly, there are plenty of ways to naturally get your hormones back on track. 
1. Eat the Right Food
Traditional Chinese confinement practices have always prioritised good nutrition, as it is widely believed that the food you eat on a daily basis can help you balance your postpartum hormones. It may be difficult to imagine that the right kind of confinement breakfast, lunch, or even dinner can help you balance your postpartum hormones. Yet, these highly nutritious confinement foods have proven to do so. Besides, good nutrition cannot hurt. So, here are some examples of food to include in your diet. 
Fibres
A diet high in fibre can help keep your oestrogen levels in check. Fibres aid in the removal of toxins from your body, including excess oestrogen, through regular bowel movements. Fibres have also been shown to improve gut health which subsequently improves postpartum depression. The variety of fibres from whole grains, fruits, and vegetables will help gut bacteria to produce short chain fatty acids, which have anti-inflammation properties. This helps to support a healthy gut-brain axis. Besides that, a diet with adequate fibre (by incorporating wholegrains) helps to regulate blood glucose, insulin, and cortisol levels.   When these are in check, they can play a part in supporting the body in producing healthy progesterone-to-estrogen ratios once more.
Food Source: Wholegrains, bananas, beans, and green leafy vegetables
Proteins
Eating high-quality protein provides your body with amino acids that are specifically needed for the production of three key hormones: oestrogen, insulin, and thyroid, the absence of which affects not only your hormone balance, but also your other bodily functions. Besides that, animal protein is the only source of vitamin B12. Low vitamin B12 is associated with depression. Therefore, having adequate high quality protein intake is important. If you are vegetarian, you should discuss with your healthcare provider if any vitamin B12 supplement should be considered. 
Food Source: Wild-caught salmon, poultry, and pork.
Healthy Fats
Healthy fats, such as Omega-3 fatty acids, may help keep postpartum hormone levels in check by regulating hormones associated with appetite, weight, and mood, which may help you cope better with "baby blues." Fats are also necessary for the production of female sex hormones and the absorption of fat-soluble vitamins, such as A, D, E, and K. Having an ideal ratio of Omega-3 to Omega-6 and adequate Omega-9 intakes are important for health. On the other hand, high intakes of saturated fat should be reduced as it is associated with depression, higher risk of metabolic syndrome, and cardiovascular diseases.
Food Source: Avocados, walnuts, and chia seeds.
Herbs & Spices
Herbs and spices are rich in phytochemicals which are antioxidants. Antioxidants are compounds that can prevent or slow the damage caused by free radicals (unstable molecules produced in the body due to oxidation or exposure to toxins in the environment) to body cells. A diet rich in antioxidants also promotes a healthy gut-brain interaction, which improves mood. Herbs and spices can easily be added to your everyday meals. Season your meals with herbs and spices, in addition to salt and pepper. 
Food Source: Thyme, parsley, coriander, cumin, fenugreek, ginger, etc.
2. Get Adequate Sleep
Sleep has a significant, albeit complex, effect on the balance of your hormones postpartum. Basically, sleep affects the functionality of your body's endocrine system – the main system that regulates the production and secretion of a large fraction of your body's hormones. So, simply put, adequate sleep is key to both restoring and maintaining the balance of your hormones. 
We know it may sound impossible with a baby that wakes up every few hours at night, but we have a few solutions. Try:
taking naps whenever your baby is asleep 

taking shifts if your partner or family members

hiring a confinement nanny
Mommies who need some extra help falling asleep can visit our Instagram page (tianweisignaturesg) for some helpful tips on what to eat and avoid for better sleep, as well as more tips on postpartum nutrition!
3. Take a Confinement Herbal Bath
A confinement herbal bath could also do the trick. Despite its more prominent postpartum health benefits, confinement herbal baths are also known to help restore hormone balance after birth. How? Baths have proved to increase the levels of serotonin – the key hormone that stabilizes one's mood, happiness, and well-being. So, if you're feeling a little low, soak away in a nice, warm confinement herbal bath and just bliss out with a good book or some music.
To prepare the perfect confinement herbal bath, you will need:  
Ginger

Blumea balsamifera

(

da feng ai

/

sembong

)

Lemongrass

Chinese chaste tree
Finding these herbs may be quite a hassle, so we have made things easier for you! We offer pre-packed bathing herbs as an optional add-on to our confinement meal packages. Plus, using these herbs simplifies the process of preparing your bath. Just boil the herbs and then add them to your bathing water.
There you have it! While symptoms of hormone imbalance may differ from woman to woman, they normally only last for about six to eight weeks after delivery. But even so, there is nothing to worry about. Hormonal imbalance after birth is more common than you think, and as you can see, there are ways to ensure its balance. So, hang in there, mommies! You will slowly, but surely, feel whole again. 
In the meantime, be sure to check out MumChecked for the best maternity and baby items to better support you on your journey of motherhood.