Best Mother's Day Gifts For A New Mom in Confinement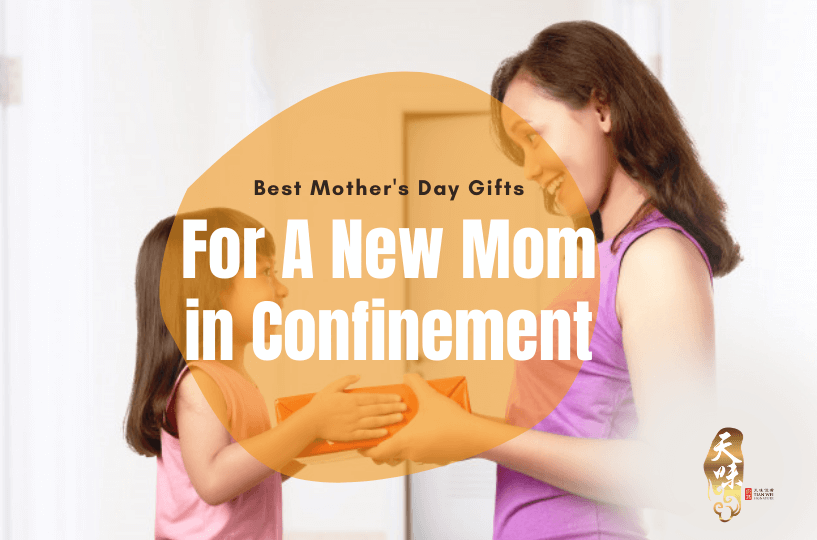 Mother's day is just a few more days away. If this is your wife's first time celebrating it as a mother, pampering her with a thoughtful and practical gift will make this special day even more memorable for her.
As her body has just gone through tremendous changes from pregnancy and labour, she is likely to love gifts that can help her recover smoothly from this process. So keep the usual gifts like fashion accessories, makeup or handbags for another occasion, and show her how much you appreciate her with these thoughtful mother's day gifts! 
Postnatal Massage
If you've seen how much your wife struggled with coping with her body discomforts during pregnancy, well the battle continues—if not intensifies—after childbirth. She is likely to experience post-surgeries swellings, water retention, breast engorgement, stress and fatigue while transitioning into this new phase in her life. Getting her a few sessions of postnatal massage can do wonders in relieving all of her postpartum discomforts and speed up her recovery.
To pick the best postnatal massage package for her, start by choosing a reputable and highly rated massage service. As your wife's body is currently under a fragile and sensitive stage, you should make sure that their therapists are certified and well-trained to perform massages for new mothers who just gave birth. Last but not least, engaging with an in-home massage service would allow her to enjoy every soothing session without the hassle of leaving the house.
Breastfeeding Essentials
One of the biggest lifestyle changes of being a mother is the constant need to breastfeed or pump breast milk every few hours. Unfortunately, this is the one and only task in parenthood that fellow daddies are unable to directly help with. So what's the very least you can do here to share your wife's burden? Get her the best breastfeeding essentials!
That's right! Using the right breastfeeding or pumping tools can really make a difference in helping her enjoy breastfeeding or pumping. If you think since you've already have a breast pump or milk bottles at home and there is nothing much you can get her in this category, pay attention to her breastfeeding or pumping routine.
What does she usually struggle with? Some best breastfeeding essentials that you can get her include a comfy nursing chair or nursing robe, a stylish breastpump bag, some soothing nipple care products, or a lactation massager. To get more inspiration on the best breastfeeding and pumping essentials to get, visit MumChecked for a wide range of selections and deals!
Comfortable Bedding
The joy of having a baby comes along with months of sleep deprivation for the both of you. As much as the fatigueness feels challenging for you, imagine how hard it is for her while dealing with post-surgery wound and breast engorgement. Getting long hours of uninterrupted sleep may not be possible now, but you can always find ways to improve both of your quality of sleep—and a comfortable set of bedding will do the trick!
Hence, if you find your mattress or pillows aren't exactly in their best state, consider getting a brand new one with ergonomic designs. Look for mattress and pillows that are breathable and provide great support. If you don't necessarily need a new set of bedding, helping her to wash and change the bed sheet and pillow covers once every week is an easy yet caring gesture to help her get the restful sleep she deserves. 
Confinement Meal Delivery Service
Having good nutrition is a crucial part of recovering from any type of surgeries, and that includes recovering from childbirth. Not to mention new mothers need sufficient nutrients to fight against baby blues and improve their postpartum mental wellbeing too. If you don't have the experience in preparing confinement meals or simply cooking in general, you can always order from a confinement meal delivery service like Tian Wei Signature to help your wife get all the essential nutrients she needs to recover and produce breast milk.
Tian Wei Signature offers nutritious fusion and traditional Chinese confinement meals to help new mothers with postpartum recovery and lactation. All meals on our confinement menu Singapore service come with a delicious and generous portion of staple, meat dish, vegetable dish, and a nourishing soup or dessert. You can choose to have your delicious confinement meals delivered to your doorstep during lunch, dinner, or both.
Serving you mouth-watering dishes like Mediterranean Signature Seared Salmon with Cauliflower Cream and Tri-Colour Grains, Tian Wei Signature Coq Au Vin, Stir Fried Pork and Liver with D.O.M, Braised Pork Trotter in Black Vinegar, our confinement meals are MSG-free and carefully reviewed by an in-house dietitian. So if you are looking to pamper her with all the right nourishment and nutrients, a confinement meal package from Tian Wei Signature confinement food Singapore delivery service would be the ideal choice!
The Best Gift Is Your Presence & Support
As cheesy as this may sound, no gift can beat your company and support during this remarkable stage in her life. Becoming a mother is a role that requires a lot of effort and determination, and one of the best things she could ask for is an understanding and loving partner. While Mother's Day is an occasion that we only celebrate once a year, we should always appreciate the sacrifice and dedication of all the amazing mothers around us every day. So if you haven't already done this, take this as a reminder to tell your wife just how much you love and appreciate her!