"Can I just have a bite?" Food to Avoid When Breastfeeding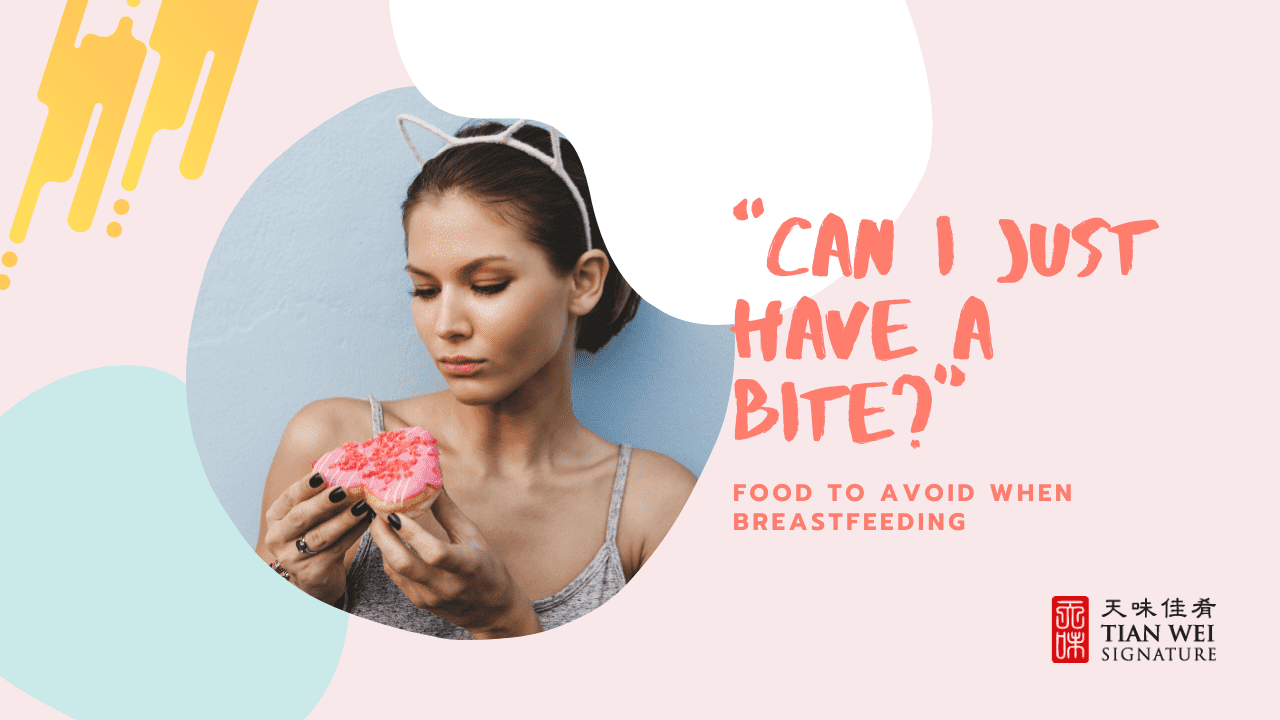 As soon as you announce your pregnancy news, people around you might immediately hand you a list of all of the foods and drinks that weren't safe to consume while you were pregnant. Sure, they all have good intentions, but does the list have to be so long? Do you have to follow everything strictly? Perhaps not, but you may still subconsciously follow their advice because there is no harm in being safe.
Now, after months and months of dietary restrictions, the pregnancy has finally passed. You probably think now that your little one is here, you can loosen up a little bit about what you have for dinner. Unfortunately, that is not always the case.
To some extent, you are still 'eating for two'. Though restraints have gradually eased up on what breastfeeding moms should and shouldn't eat over generations, there are still some foods that you should avoid and others that you should take care with when eating and drinking.
On that note, here are a few drinks and foods to avoid during breastfeeding!
Foods & Drinks You Should Avoid While Breastfeeding:
Certain Fish
Do put the emphasis on the word 'certain' as we certainly do not want you to get the wrong idea. As we all know, fish are generally a great source of protein. In fact, having fish for confinement is very much recommended by nutritionists and dietitians alike.
Salmon, the mother of all lactation-boosting seafood, contains omega-3 fatty acids that can boost your baby's brain development. Still, there are reasons why it is wise to know and be picky about what fish you are eating. Certain types of fish may potentially have high levels of mercury, such as swordfish and king mackerel. This mercury can be passed through your breast milk and impose health risk to your breastfed baby.
If you simply cannot resist eating fish every other day, all you have to do is be more selective. Choose one that will not be as risky. If you think ahead and carefully pick your fish, that fish can be the best dish on your plate that can extensively benefit you and your baby.
Alcohol
Try to avoid drinking regularly when you breastfeed. However, we understand that sometimes you just need a sip of that mood-booster of a drink. If you still want to drink and breastfeed, you can, but – there's a huge BUT – plan the timing. After drinking, you should be able to wait for about two to three hours before you need to breastfeed again. By then, the alcohol should already be completely out of your system. Hence, if you must, the best time to drink is right after you are done breastfeeding. Next, just like everything else, the key is to keep it in moderation.
Coffee/Tea
Yes, tea as well. When we talk about caffeine, the first thing that would pop into your head is probably coffee, and rightfully so. You may feel like taking at least a cup of coffee or tea every day, but be careful, that action might take its toll on your baby. This, as you will soon find, can also take a toll on yourself. Sure, it can be harmless, but just like everything else, you have to be careful. Caffeine can end up in your breast milk and thus so does the effects. Regular consumption can cause your baby to be fussy and perhaps does not want to sleep. If their sleeping schedule gets messy, that means yours will be too.
Chocolate
"Can you eat chocolate during confinement?" First off, let's make it clear that chocolate isn't bad per se, but again, it's the caffeine in it. Just like the coffee and tea, the caffeine in chocolate can potentially make your baby fussy and not want to sleep, especially if taken in a huge amount. It also seems to have a laxative effect on many babies, so you might want to keep monitoring your little one in case their bowel movement increases irregularly or their sleep is often disrupted.
Parsley, Peppermint and Sage
If you have always been someone who enjoys cooking, we believe these herbs are no strangers to you. Sure, they make great additions to your meals in terms of enhancing the flavours, but using them may come at a cost. Unfortunately, they have been known to negatively affect your milk supply due to their lactation-suppressing properties. Hence, do take them in moderation. You may skip them altogether if you notice that you are producing less milk.
"Gassy" Foods
Gassy food does not only refer to the obvious ones like carbonated drinks. It can be some of your typical greens as well! Cabbage and cauliflower are among the gassy ommon foods. Unfortunately, the result of eating gassy foods can cause problems in your little one. Your baby may face the same consequences like regularly passing gas and bloating. While these can be easily treated, a colicky baby may go through worse time dealing with the symptoms.
Can food harm your breastfed baby? How can you tell?
The effects would normally show, so in a way, your baby will 'let you know'. Since there is no way to tell what exactly can affect your baby, it would be better to take one new food at a time and not all at once. Practise this with all foods, but especially do so with foods that you or your family members are allergic to. That said, take note of the possible problems that may occur afterwards. Some reactions that indicate that what you ate was not suitable for your baby are:
Allergic reactions, eczema, or red and itchy rashes
Breathing problems like congestion
Fussiness (that is unlike other normal days)
Excessive gas
Diarrhoea
While these symptoms may be caused by other things, it is still crucial to consider that perhaps your diet is the cause. Apart from dairy products, other common foods that can potentially cause certain reactions in babies are spicy food, citrus fruits, and even soy.
All in all, do take note of what you can safely eat and what not to eat when breastfeeding. If you suspect that your baby is having a negative reaction to something that you are eating, talk to your doctor before completely omitting it from your diet. Who knows, maybe the food is not the cause. Likewise, if the food is indeed the cause, your doctor would probably prescribe you some supplements to make up for the nutrients that you supposedly get from the said food.