Debunking 4 Myths Around Postpartum Weight Loss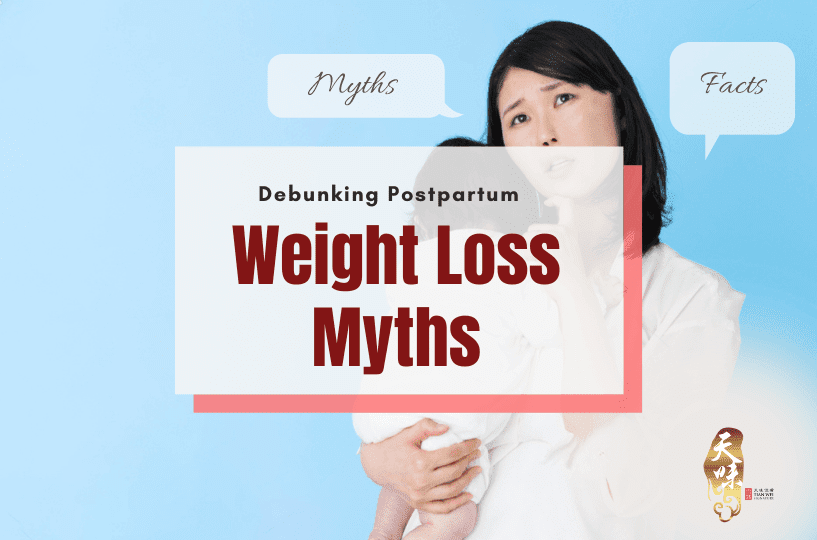 It's natural to wonder how you'll lose the "baby pounds" after your precious little one arrives. That almost always brings us to the question: "How do you reach a healthy body weight postpartum?" 
You start with having good information, of course. Having the right information is essential to a gradual and healthy postpartum weight loss, which is said to help you keep the weight off better than when you try to lose weight quickly using shortcuts.
Unfortunately, there are as many myths as there are tips on how to lose pregnancy weight. We realise that new mothers already have a lot on their plates, from taking care of their newborns to settling into a new routine, and recovering from childbirth. So, it is rather impractical to throw in the task of separating the rights from the wrongs into the mix. 
So, we decided to do it for you! Here are four of the most common postpartum weight loss myths debunked for the benefit of all new mothers out there.
1. Fad & Crash Diets
Myth
:
"A detox diet, green diet, or no-carb diet will help you to snap back in no time."
Fact: 
Crash and fad diets do not help. The pounds you lose from crash diets are temporary and may cause you to lose muscle mass and too much fluids which can be detrimental to your health. Fad diets, on the other hand, do more harm than good. It increases risk of nutrient deficiencies, reduces energy level, affects postpartum recovery and slows down metabolism, which makes it even harder to lose weight.  
Fix: 
Balanced meals packed with nutrient-rich foods and reasonable portions are the best way to go about your diet. A balanced diet should include the following nutrients – whole grain carbohydrates, high-quality proteins, healthy fats, vitamins, and minerals. If you're still unsure, then perhaps you could give our dietitian-reviewed confinement food trial a go. This way, you'll know what a proper, balanced meal should both look and taste like. 
2. Breastfeeding
Myth:
"Breastfeeding makes the baby weight fall right off."
Fact: 
Breastfeeding does, in fact, help you melt off the baby pounds. However, it is not as simple as it sounds. Breastfeeding can burn up to 500 calories a day, but only if you're taking in your recommended amount of calories each day and breastfeeding exclusively. 
Fix:  
First, make sure you're eating a well balanced and healthy diet. Limiting deep fried oily foods, incorporating whole grains, taking adequate fruits and vegetables in every meal will naturally help you to keep yourself under recommended calories and nutrient intake. High fibre from fruits, vegetables and whole grains will also provide bulk in your meal that would help to provide satiety easily.
Secondly, since breastfeeding burns up to 500 calories per day (for mothers who breastfeed), you are highly encouraged to exclusively breastfeed your baby up to 6 months.  Incorporating galactagogues, such as ginger, garlic, and fenugreek seeds into your meals can help boost your milk supply. However, finding the time to prepare the right meal with the right lactogenic foods can be difficult. Fortunately, all of the dishes in our confinement meal plan include some of Asia's most well-known galactagogues! There's your fix, mommies. 
Bonus tip: MumChecked offers some of the best-rated breastfeeding essentials designed to make the process of breastfeeding easier, especially for first-time mothers in Singapore. Be sure to go check them out!
3. Skipping Meals
Myth:
"Skipping meals and snacks can help you lose weight quicker."
Fact: 
In reality, skipping meals can actually make you gain weight rather than lose it. When you skip meals, your body gets tricked into "starvation mode". This may cause your body to lose lean body mass as it breaks down proteins in our muscles to produce energy. Lower lean body mass can lead to weakness, disability and lower quality of life.  Besides that, when your body is starving,  you tend to crave for foods that are high in energy. More often than not, these foods we crave for are unhealthy foods which are high in fat and sugar (which are higher in energy density). This subsequently promotes overeating. 
Fix: 
Be sure to eat three meals a day regularly. If you want to switch things up, try eating smaller, frequent meals throughout the day. As for snacking, a good tip is to stock up on some yummy yet healthy snacks, such as oatmeal, mixed nuts, fruits, or herbal soups like our very own Chinese confinement soup. Oh, we've heard that lactation bakes make great snacks too! Be sure to go check out these delicious munchies. 
4. Exercising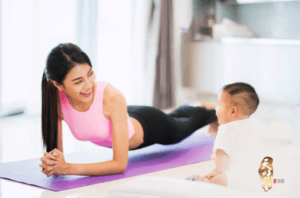 Myth:
"Exercising is not possible with a new baby around."
Fact:
It is true that newborns do require lots of care and attention, and that can take up most of your time and energy. However, there are many different ways in which you can find the time to exercise, even with a baby around. Starting small and simple exercises as having a stroll at the park will be very beneficial to your health. Being active regularly not only preserves your muscle mass and strength, it will help regulate your metabolism, energy levels and stamina. The secret is to include your baby in your workouts!
Fix: 
You can put your baby in a stroller and go on simple walks around the block. Going on a 30 to 45 minute walk three to five times a week can help with weight loss. You can also exercise at home by watching videos or online routines. Besides being able to exercise while keeping an eye on your baby, you can also pause and tend to your baby as needed. You can even include your baby directly in your workouts with exercises like reverse baby curls, push ups, and so on.
Reminder: Make sure you've gotten the green light from your doctor before you start exercising, and never push yourself into a harder routine for faster weight loss. Remember, your body is still recovering after birth.
We hope this helps you start your postpartum weight loss journey in the right direction! But, go slow, okay? After all, your body did just do an amazing thing!