Dietitian Shares: Grocery Tips to Make Easy Meals at Home During Pregnancy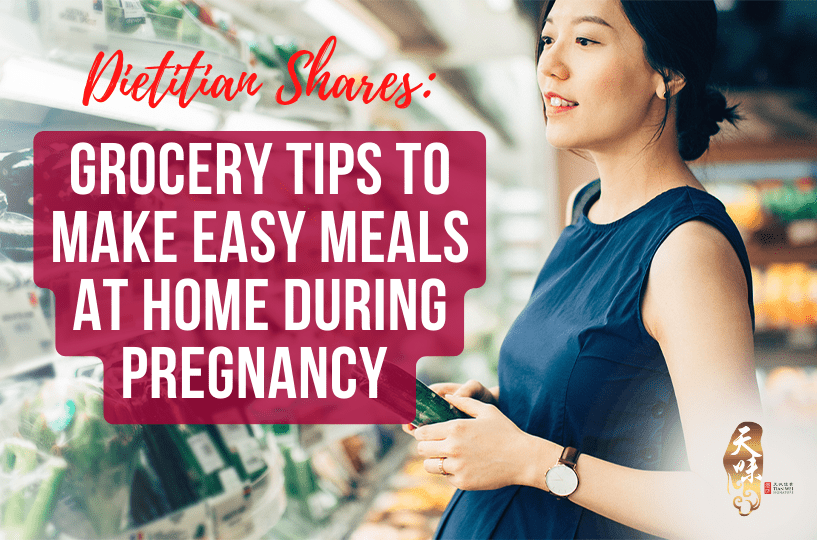 There are so many things to consider, the internet is just another blackhole of information that never ends. It is no wonder more and more mothers are becoming more overwhelmed these days during pregnancy. Where do we even start? How should mummy plan before she gets busy? Here's some ideas of what you can try to do and plan for to make eating healthily throughout pregnancy easier for you and your family.  
During pregnancy, it is important for women to eat a healthy and balanced diet. One way to ensure that your meals are balanced is to ensure that you follow the quarter quarter half plate rule where the first quarter is a choice of protein, second quarter is your choice of staple and the remaining half plate is your choice of vegetables. On top of that, you may want to add more colour, fibre or some additional protein. These options are not only versatile, it'll just give you additional boost to your meals without breaking a sweat.Here are some tips below!
Frozen vegetables
You may find it weird, but frozen vegetables like broccoli, carrots, corn or kale can be a good option for you. You can easily use carrots, corn or peas to add colour to your meals. Nutritionally it's the same with fresh vegetables. Best of all, frozen vegetables are often already pre-cut too! All you need to do is heat it up and it's good to go! 
Canned beans and legumes
Contrary to popular belief, canned foods can be healthy too. Not all are preserved in chemicals or so. Some like peas, chickpeas, and kidney beans are only soaked in brine or water. and heated at high temperature to sterilize it before being canned. They may not be as good as fresh or frozen, but they are still good! Canned beans and legumes are not only a good source of plant based protein, it is also a good source of fibre and folate! It's definitely something you can use to boost up the fibre and protein content of your meals! You can easily put them in your vegetables, your staple or mains.
Canned skipjack tuna
Tuna may be something most mothers would avoid because tuna has been said to be of high mercury. What many may have misunderstood is that only albacore or yellowfin tuna are high in mercury. Skipjack tuna are low in mercury yet still a great source of OMega 3-DHA and a good source of protein for mummies! So just look out for canned skipjack tuna or canned tuna labelled as "light" tuna. You can have them once to twice a week safely! You can make sandwiches or add them in your poke bowl at home. 
Minced lean meat
Minced meat like pork, beef and chicken is something you can consider as they are easier to prepare, marinate and cook faster yet still providing you with flexibility. Minced meat is still a great source of protein and can Vitamin B (s). Minced meat can be served with tofu, thrown into your bolognese pasta or lasagna,thai stir fried minced pork with basil and many more!
Frozen prawns & scallops or regular eggs!
Apart from minced meat,  you can also consider other easy cooking proteins like frozen prawns, scallops or eggs! These proteins can be used easily in any kind of dish with minimal to zero preparation or marination. You can easily add them in your stir fried noodles or rice, broths, noodle soups or even prepare it as the main protein dish. These options are not only good sources of protein, foods like prawns and scallops are also another good source of Omega 3-DHA that are low in mercury which mummies can have during pregnancy. 
In conclusion, cooking is a process and an art in itself. It is also a very personal journey and learning process.  It can still be enjoyable if you want it to be! That being said, if cooking really isn't your forte, there is no judgement here. There are many other ways to get yourself healthy and balanced meals nowadays! What's important is having the intention to eat healthier and planning for it because if you fail to plan, you plan to fail.  
On the side note, have you started thinking of what you're going to eat during confinement? There are so many types of food for confinement mothers and it can be overwhelming to cook yourself during this time.  If you do not have any help for your confinement diet, or your nanny may not be good at cooking, you can always consider seeking out external options for  confinement food in Sg. Eating healthily during your confinement is important so that you can recover well to support yourself and your baby.