How Food Can Affect Your Moods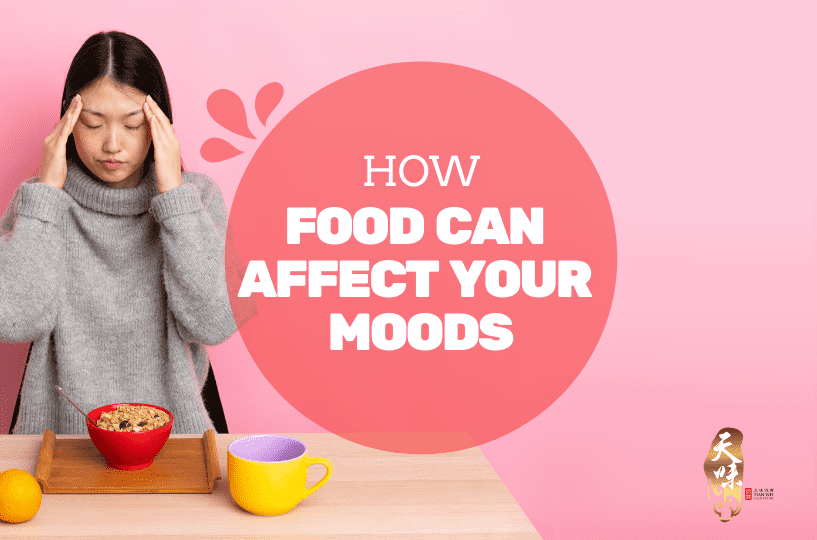 Having a child is a wonderful experience. However, recovering after giving birth can be a roller coaster ride as your body re-adjusts itself both physically, emotionally and mentally back to its pre-pregnancy state. During this period, many women may suffer from mood swings and feel down at times. This can be caused by a combination of hormonal changes as well as the challenges of taking care of a newborn.
There are certain parts of your diet that can improve your mood and give you a boost of happiness. These are some of the ingredients which you can incorporate into  your confinement diet:
Salmon and other fish
Fish like Salmon, Mackerel, Sea Bass, Sardines and more are high in Omega-3 fatty acids. These fatty acids include EHA dan DHA, both of which are important for brain functions. In fact, studies have shown that instances of postnatal depression are lower in communities that consume fish on a regular basis.
Fish are also a rich source of protein, which will help in your physical healing, especially if you have any wounds or stitches.
Whole eggs
Eggs are a rich source of protein, and they're so versatile you can consume them in any way and they'll still taste delicious. Eggs have all the essential amino acids your body needs. Amino acids are essential in building tissue and cells, which includes hormones too.
Eating eggs will replenish your body with the amino acids it needs to regain its hormonal balance and heal faster.
Drink lots of water
It's important to keep your body hydrated throughout the day during confinement. Listen to your body and let thirst guide you as to when you need to take a drink. Plain water would be a good choice, but you can also get hydrated from milk, yogurt drinks, herbal teas, fruit juices and soups.
Dehydration has been known to make mood swings worse, and can worsen your feelings of fatigue or tiredness. Keep some water with you throughout the day so that you can sip whenever you feel thirsty.
Dark chocolate
Studies have shown that dark chocolate promotes the production of endorphins, a brain molecule that triggers feelings of happiness and euphoria. The darker the chocolate, the more cacao it contains, and cacao is the main ingredient that can really stimulate your brain to produce endorphins.
Therefore, it helps to give yourself a treat with dark chocolate once in a while during your confinement.
Any type of nuts
Nuts are one of the healthiest snacks you can have while in confinement. The great thing about nuts is that they are rich in Selenium, a trace element that is key in preventing depression and stabilizing your moods.
If you're in the mood for a snack, go for nuts like walnuts, pistachios, Brazil nuts, peanuts, cashews and more. Walnuts are also good for Omega-3 fatty acids, just like fish.
Taking good care of your confinement diet is one way you can care for yourself and show yourself some self love and appreciation. Confinement food is also for miscarriages, so you can consider them too. 
You May Also Read this : Things to Consider When Planning Your Confinement
---
You might also like