How We Help New Mothers with Recovery and Lactation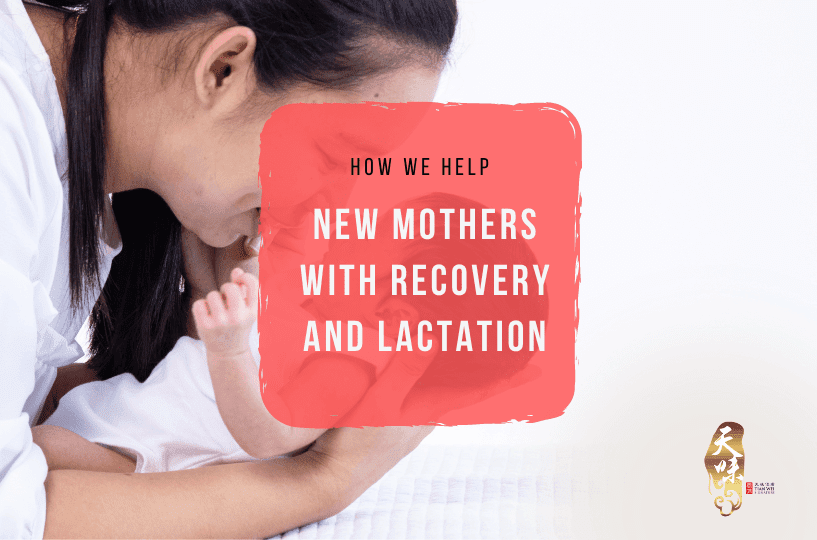 Thank you for your interest in Tian Wei Signature. Now that you are here, you might be curious and interested to find out about us and how we could help you with your postpartum recovery and lactation. Wonder no more! We have got you covered on that. This article will enlighten you on how we can be of help during your confinement period.
Exciting Fusion Meals          
How will this help me, you may ask. Confinement meals have always been traditional meals only, so mommies like you might be looking for more variety. The good news is that Tian Wei Signature have just what you need! We make your confinement diet more interesting by serving fusion confinement meals on top of traditional meals. We offer a wide variety of unique fusion meals such as Mediterranean fusion and Japanese fusion meals to keep your confinement diet exciting with minimal repetition. Plus, our fusion meals are prepared using nutritious and healthy ingredients to hasten your postpartum recovery as well. Examples of our fusion confinement meals include Tian Wei Signature Coq' Au Vin, Kurobuta Pork Loin with Apple Mirin Sauce and Spaghetti and Seared Salmon with Cauliflower Cream and Tri-Colour Grains.
Nourishing Goodness
At Tian Wei Signature, your dietary needs for a smoother postpartum recovery is our utmost priority. Your meals are purely prepared with natural flavours of fresh ingredients and they are MSG-free to bring you a healthier dining experience. Our confinement meals help you with your postpartum recovery because we use a lot of nourishing and healing ingredients in our dishes. Some of our meals are high in Vitamin C, which is crucial for the formation of collagen to promote wound healing around the genital and caesarean area after labour. Plus, the iron contained in our dishes would help supply oxygen throughout your body by developing red blood cells. For a healthier bowel system and gut, our dishes also contain fibre to prevent or treat constipation. Be it traditional confinement dishes, fusion confinement dishes, confinement herbal soup or lactation-friendly dishes, we will do our best to cater to your full recovery!
Lactation-Friendly Ingredients
Our meals are made with the aim to ease your breastfeeding issues. Thus, we have incorporated lactation-boosting ingredients in our dishes to improve your breast milk supply. Some of the ingredients included are fenugreek, ginger, papaya, and garlic. Additionally, our dishes contain nutrients that can improve the nutritional quality of your breast milk to benefit the development of your newborn through breastfeeding. For example, folate contained in this meal is great for the development of your newborn's brain while Vitamin C reduces your baby's risk of developing allergies.
You May Also Read this : 6 Lactation-Boosting Food to Keep in Your Kitchen
Well-Balanced and Dietitian-Guided Meals
Worried about what you should be eating during confinement and doubtful of where to get them? We are pleased to inform you that with Tian Wei Signature, your meals are delicately prepared to be healthy and well balanced to cater to your nutritional needs. We understand your concerns and how important it is to be adequately nourished. Therefore, we have an in-house dietitian to review all the ingredients and nutritional value of our meals, to ensure every meal you have with us will benefit your recovery and lactation. For every confinement meal we serve, our meals come with a staple, meat, vegetable, soups or desserts. Our fusion meals come with a dessert while the traditional meals are served with herbal soups. Making them confinement foods Chinese mommies would recommend!
Award-Winning Chef and Sustainable Packaging
Our meals and dishes are prepared by Chef Eugene, who  started his professional career in the culinary industry by honing his skills in international cuisine, which eventually inspired him to create interesting fusion and traditional confinement dishes with us! With his experience in curating breastfeeding-friendly and nutritious confinement meals, Chef Eugene aspires to keep supporting mothers through their postpartum journey. Not only your meals will be healthy, they are also nutritious as well! Besides that, Tian Wei Signature keep your meals warm and fresh during delivery through the use of our thermal bags. We serve your herbal soups and red dates tea in thermal flasks. These flasks can keep your meals warm and fresh for longer hours and it's more environmentally friendly too! It is also worth noting that we use biodegradable packaging for our dishes, making it a more sustainable option for you and mother nature. Speaking of packaging and thermal flasks, MumChecked provides various feeding and household-related items for your convenience. You might want to check them out!
In conclusion, this is how our fusion and traditional meals can help with your recovery and lactation during confinement. Plus, you can also help us contribute to the betterment of the environment through the use of sustainable packaging. Gone are the days where you have to wander and think carefully on where to eat and how to get your preferred confinement foods. With only one call, you will be able to enjoy your confinement foods of choice right from the comfort of your home.