Our Top 4 Ingredients That Can Boost Lactation
Nursing mothers often experience a period where they have insufficient breast milk for their newborns, this can be very frustrating and challenging for both the mother and her baby. Evidence of lactogenic food is scarce or limited but it may have the potential to help when you are breastfeeding during confinement.
Lactogenic foods are foods that contain natural substances which promote the production of breast milk. Beyond making milk, these foods contain vitamins, minerals, and antioxidants that will nourish you too! So what are these ingredients and how do they help with your milk supply? Let's look at them one by one.
Ginger
Ginger is one of the healthiest ingredients available and one of the best foods for your lactation too! It helps boost your lactation by vasodilation and warming up the surface-level temperature of your body. Vasodilation is an occurrence in which the blood vessels widen due to the relaxation of the blood-vessels ' muscular walls. 
This mechanism may explain the possibility to boost milk production through increased blood supply for your lactating breast. To put it simply, ginger is great for your lactation as it increases your breast milk supply through improved blood flow.
Plus, there are plenty of dishes where you can have ginger as part of its ingredients. Some of the delicious and healthy dishes that feature ginger as lactogenic ingredients include stir-fried romaine lettuce, stir-fried broccoli with scallop, and Taiwanese braised chicken. Sounds mouthwatering to us, yum!
Garlic
Garlic has volatile sulphur containing compounds which can be translated into your breastmilk and affect its odour and flavor. Consuming garlic as part of your well-balanced diet helps in improving the odour and flavour of your breast milk. In turn, this will encourage your infant to spend more time being attached to your breast and feed better. However, do keep in mind that garlic flavours may only affect your newborn during initial exposure.
Repeated exposure to garlic flavour in your milk will make your baby grow habituated and familiar with it. In short, garlic is beneficial for you as it improves the odour of your breast milk, provides pleasant flavour for your milk, eases the introduction of breast milk to your baby, and encourages your baby to stay latched on longer.
But that is not all! Since garlic is a prominent lactogenic ingredient in our dishes, it is easy to keep you spoilt for choices with our menu of confinement dishes that contain garlic. Some of our most popular dishes that contain garlic include Steamed Prawns with Garlic Vermicelli and Broccoli, Garlic Chives with Beancurd and Pea Shoots with Silver Bait and Garlic Flakes. You might want to give some of these dishes a try!
Fenugreek
Fenugreek is a superfood for lactation due to its ability to boost your breast milk supply. On top of that, fenugreek has always been commonly associated with various health benefits. Some of these benefits are lowering the risks for diabetes and reducing the risk of heart conditions. In terms of helping with diabetes, fenugreek as a whole is able to reduce absorption of carbohydrate by inhibiting carbohydrate digestion. Meanwhile, the fibre in fenugreek helps to suppress uptake of cholesterol and bile acids. This leads to lower cholesterol in the blood, which helps to lower the risk of cardiovascular disease.
Now, you might be wondering how fenugreek can be beneficial for your lactation? Fenugreek helps your body produce more breast milk by stimulating the production of sweat in your breast which is somewhat identifiable to a modified sweat gland. We know how fenugreek can be a great help for your breastfeeding issues so we are pleased to inform you that our dishes contain fenugreek as well.
Some of these confinement meals Singapore mommies would recommend are Fenugreek Green Papaya Fish Soup and Lemongrass Fenugreek Braised Fish Fillet. With only one call, these savoury and refreshing dishes are as good as yours!
If preparing a confinement meal is a bit too difficult for your liking, you can always have a confinement catering team like Tian Wei Signature to prepare these foods for you! You will need all the help you can get so having your confinement foods curated by our in-house dietitian and experienced chef would be a pleasant treat for your confinement experience!
Green Papaya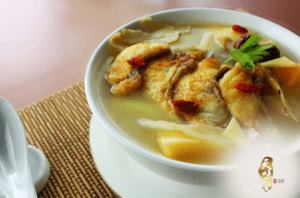 If you are craving for something sweet and fruity, then you might want to give green papayas a try! They are filled with natural goodness such as high Vitamin C, Vitamin A, fibre, potassium and carbohydrates. But that is not the end of it. Papaya is great for your breastfeeding purpose as it promotes milk production. How so, you may ask?
Well, when boiled, green papaya fruit contains saponins and alkaloids which can affect the production of prolactin and oxytocin. Prolactin functions as your breast milk production synthesis while Alkaloid stimulates all smooth muscles to express breast milk at the alveoli. To summarise, papaya fruits help ease your breastfeeding issues by stimulating smooth muscles that work to express your breast milk.
Speaking of improving your lactation, you might also want to pay attention to MumChecked. They provide plenty of breastfeeding tools and breast pumps to help you express your breast milk better! These products would be fine additions to your lovely household.
Now back to the ingredient in question, papaya is not only a healthy fruit but it is also widely accessible! Due to this convenient property, papaya has become one of our staple lactogenic ingredients. Our signature green papaya dish – Fenugreek Green Papaya Fish Soup is not only breastfeeding-friendly but it is also packed with rich nutrients and flavours.
In conclusion, these are our top ingredients to help ease your breastfeeding experience during confinement. While it is important to keep yourself properly fed to breastfeed your child better, you should always be mindful to eat for your own health and wellbeing. 
Interested in our dishes? You are always welcomed to give them a try! With only one phone call, Our confinement food delivery service will have them delivered right to the comfort of your home! Do contact us at +65 6727 5599 now!