Lowering Risk of Diabetes During Pregnancy Through Proper Diet Plan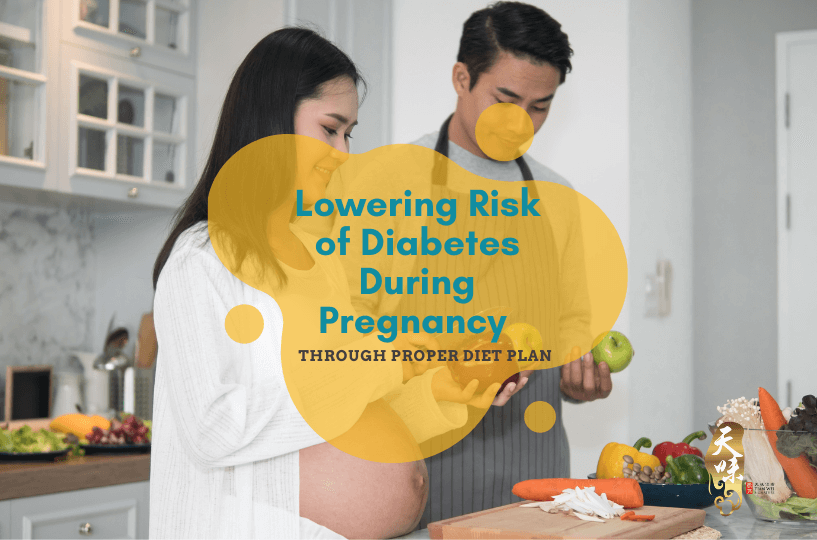 Gestational diabetes or more commonly known as diabetes during pregnancy is a condition in which there is a high level of sugar in the bloodstream during pregnancy. While it is common for mothers' sugar levels to return to their previous state after childbirth, it is important to keep in mind that mothers who contracted gestational diabetes are more likely to be inflicted with Type 2 diabetes. However, it's not all gloom and doom. There is a way to reduce your risk of having gestational diabetes and manage your sugar levels. Through a proper diet plan of course! These are the hot tips to prevent diabetes during pregnancy.
Identify Carbohydrate Sources and Choose Wisely
| | |
| --- | --- |
| Grains/ Cereals | Bread, Noodles, Oats, Porridge, Rice, Pratha, Cracker |
| Fruits | Apple, Banana, Pear, Papaya, Grapes, Kiwi |
| Starchy Vegetables | Potato, Pumpkin, Corn, Sweet Potato, Tapioca, Yam |
| Legumes | Lentils, Kidney Beans, Mung Beans, Adzuki Beans, Chickpea |
| Dairy | Cow's Milk, Yogurt |
| Sweet Beverages | Teh Tarik, Fruit Juice, Kopi, Bubble Tea, Soft Drinks |
All the different sources of carbohydrates stated above will eventually be digested into its simplest form called glucose in our body. It is an important nutrient that helps to provide our body with energy throughout the day even among those with diabetes. However, there are some of these carbohydrates that are better than others. 
We should be having whole grains more often in our diet and limiting our intakes on refined grains and simple sugar. This is mainly due to the fact that foods that are high in simple sugar or are of refined grains are digested easily and faster, causing your blood sugars to spike! On the other hand, whole grains take a longer time to digest, causing a gradual uptake of blood sugars. Thus, wholegrains sustain you with energy throughout the day more consistently as compared to refined grains and foods high in simple sugars. Refrain from consuming junk food or carbonated drinks altogether as they contain an unhealthy amount of sugar.
Some pregnancy food to avoid or to be limited are:
Sweet beverages
Fruit juice
Sweet snacks
Desserts
Increase your Fiber Intake
Fibre helps to prevent carbohydrate foods from being quickly digested and absorbed by our body. So, other than including whole grains into your diet, we should be eating our fruits and vegetables too! Not only are they able to increase our fibre intake, but they are also packed with vitamins and minerals too! The recommended daily Intakes by the Singapore Health Promotion Board is 2+2 servings of fruits and vegetables per day. While non-starchy vegetables are encouraged to be more the better, that's not the case for fruit as fruits are easily digested and can spike our sugars if we take too much. Due to these characteristics of fruits, it is good practice to:
take only 1 serving of fruit at a time 
have 1 serving of higher fibre fruits as a snack/ pair your fruits with some healthy fat spread
choose to have the fruit itself over fruit juice
As for the serving size of vegetables, just remember to have half your plate filled with non-starchy vegetables similar to the "My Healthy Plate" as illustrated by Health Hub SG below: If you do choose to have some starchy vegetable to be part of your meal such as corn, potatoes, yams, tapioca, pumpkin, etc then do cut down some of your staples.
Make Healthier Snacks
Having healthier snacks can be pretty tough as most snack options you think of are high in carbs and sugar! Plus, some of them are also high in MSG and which makes them part of what not to eat when pregnant. But what do you do if you're hungry and you really need to have something in between meals but too afraid it will spike your sugar up? Well, the trick is to try pairing up your choice of snack with a protein or fat. This helps to increase the length of time your body needs to digest these foods, thus slowing down the uptake of glucose by the body and keeps you full longer! If you are looking for safe and durable snack containers, MumChecked offers a wide range of them with the best deals!
Some suggestions of healthy snacks are:
3 piece of crackers + egg mayo
An apple (sliced) or banana + 1  tbsp unsweetened peanut butter
A small bowl of cut fruits + 1 handful of nuts or 1 tbsp of seeds
Some snacks that are diabetic friendly just by itself:
1 cup of plain yoghurt
A handful of Chickpeas
A handful of nuts
½  cup of edamame
Stay Active!
Being active not only regulates your weight during pregnancy, but it also reduces the risk of oedema, promotes good blood circulation, helps you to keep fit and improve muscle tone, improve ease for labour and facilitate postpartum weight loss.
Furthermore, being active also helps to regulate your blood glucose levels. Research has found that having aerobic and strength exercises helps to improve insulin sensitivity leading to good blood glucose control.
All in all, do consult your doctor or a physiotherapist to which exercise suits your needs and your current fitness level during pregnancy. It definitely differs from person to person. Plus, keeping an eye on what foods to avoid when pregnant would also aid your exercise routine in regulating your weight.
The right diet and healthy lifestyle can help you to prevent diabetes during pregnancy, you would be able to have a healthier pregnancy and a smoother delivery as well. After all, you are what you eat!
---
You might also like