Things to Prepare for Your Confinement Period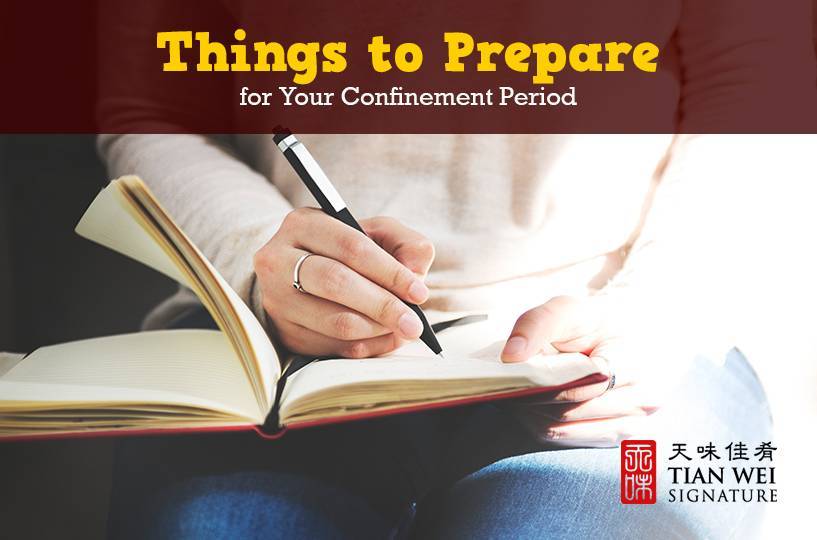 For many mothers, preparing things for after delivery means preparing their newborn's essentials. Unfortunately, there is one other person they are forgetting about, which is themselves. A new mother's health is as equally important as a baby's. You need the same amount of preparations and care for yourself. It is never wrong to provide the best care for your baby. What's wrong, however, is neglecting self-care. If anything, you should take care of yourself properly so your baby will have a healthy mother tending to them. Ready to take the first step of self-care? Go through this list and grab what you'll need during confinement!
1) Confinement Food
This takes the first spot on this list because it is the most important aspect of your confinement. Plan your daily meals to fit your new diet as a mother in postnatal period. If you are not sure what food to start with, some of the most nourishing confinement dishes are the Sheng Hua Soup and baked salmon. See what we did there? We recommended two types of food in which they are traditional and modern respectively. Our point is, there is not as many restrictions when it comes to confinement food than you think there is. You can create many things in your kitchen. Not in the mood of planning a whole month's diet and preparing the suitable dishes? Leave it to confinement meals delivery that can send nourishing food right to your doorstep every day!

2) 'ME' Time
Yes, you need to allocate some time aside for this too. Too many mothers overlook this aspect and would eventually regret it. Take several breaks during the day. Pick a time when you are done breastfeeding your baby, changing them, and putting them to bed. Then, you can do whatever defines 'having me time' for you. It can be taking a long and warm bath, sewing, or getting a massage. If you are not keen on stepping outside and walking a far distance, opt for home-based services. Set a timing for such service according to when your baby will be sleeping.

3) Herbal Packages
The ultimate hassle-free pack for new mothers. Different herbal packages are meant for different purposes such as to be mixed in bathing water or for oral consumption. You will be able to easily prepare them since these herbs are already arranged according to their uses. Try to have herbal drink or tonic every day. You can purchase many sets for one full month right away so you won't have to keep finding them later on.
4) Comfy Care Kit
You can ask other experienced mothers on what did they need most during the confinement, but everyone wants different things. To ease it for you, we'll name a few here. You can definitely use several pairs of socks, thick blankets, comfy disposable underwear, and dry shampoo. Have a box of warm oil or lotions to apply on any parts of your body when you feel cold. Some areas like nipple may be sore or crack from breastfeeding so make sure to get a cream for that as well. In case you leak milk, prepare a packet of breast pads. Sanitary pads, of course, are particularly crucial. You would need more pads than you think. There are certain types of spray that can help make your toilet break much easier and less painful as well. Remember, the main goal here is to create your confinement period to be the most relaxing month of your life.
5) Suitable Cooking Ingredients
Apart from the different kinds of meats, you should also pay more attention on the cooking ingredients. Get your partner, parents or parents-in-law, or confinement lady to get the proper ingredients for recently-delivered mothers. Some of the common ones are sesame oil, black vinegar, and rice wine. Pick ones that can give you the heaty property a typical confinement food has.

6) Entertainment
Since you would mostly be resting and staying in bed a lot, why not FIND something that can keep you occupied as well? Pick several fun books for light reading or series DVD that you'd like to finish. Some mothers pick up knitting and embroidery as well to fill the time. Do any of these sound like something you have always wanted to do? Well, now you have the time for it! If you are going to be looking at TV or phone screen, wear blue-light blocking glasses to protect your eyes.
You May Also Read this : Post-Miscarriage: What to Eat to Recover Properly
The most important thing is to not put yourself after anyone else. Yes, that includes your baby as well. Instead, take care of your mental and physical health as much as you care for your newborn. When browsing through the things to buy for confinement period, make sure you are prioritising your comfort and health above everything else.