Tips for Eating Right During Confinement Period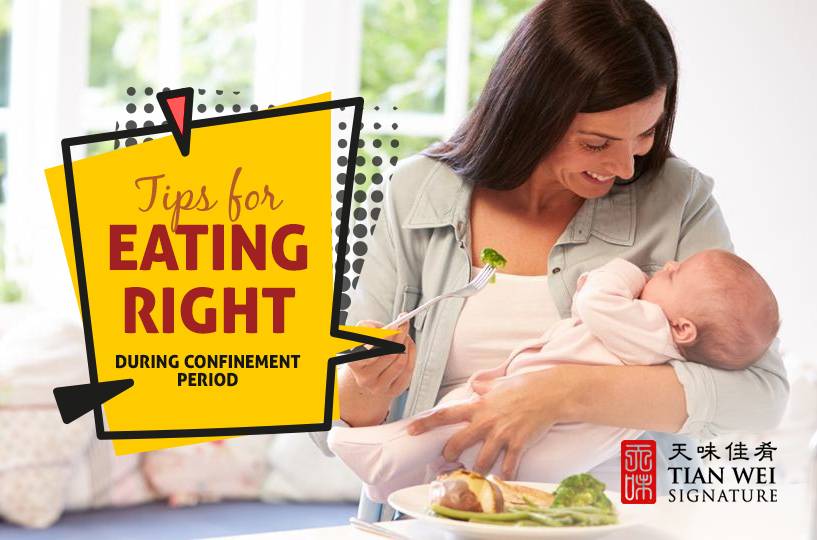 Like many other ideas, devising a new diet plan is easy, but only in theory. When it comes to sticking to that diet plan, things are just not as simple. We understand. There are certain foods or drink that you've waited your whole pregnancy just to have a hint of their taste again.
Clearly, the thought of having to watch what you eat until the confinement period ends can be intolerably by many. One thing many new mothers seem to forget, though, is that eating healthy doesn't have to be as complicated as some people make it out to be. Here are a few tips that you can follow and practise so you could eat better throughout the month!
Finish the Greens First
Research shows that finishing the fruits and vegetables first will decrease your intake of the food that comes afterwards. Doing this can help you watch your calories. This is due to eating more vegetables means you'd be having less of the main course, which would presumably contain higher calories. One particular trick you can do is to prepare and serve veggies before everything else. That means you should finish cooking them and be done eating them before you get to the other dishes. This would work better if you are preparing when you are hungry, too. By the time you finish cooking up AND eating your veggies, you will be requiring less of the following food. Therefore, you'll be cooking less of them and don't have to eat more than what you need! Vegetables seldom have overpowering flavours, so have them with something else that does, like a dressing which we'll talk about below.
Use Straw to Drink
When you use straw, you are drinking more efficiently. It is not so much about taking in more water by using straw, but rather there are more 'distractions' when you are taking a sip from a cup. When not using a straw, you are taking in the liquid and oxygen at the same time. Hence, using straw can make you drink faster and consequently, more. It has been widely claimed by many that they are drinking considerably larger amount of water when they use straw than when they do not. That said, it would be for your best benefit to not use this technique with alcoholic or caffeinated drinks, especially as a new mother.
Add Flavour to Water
Water, again? Yes, because water is simply that important. There are other ways you can opt for to increase your water intake, such as using an app that will remind you to drink every one or two hours. But what if we say you can make water tasty? You can! Have sparkling water for a start. Granted, the taste remains the same, but there is something about the texture that makes you want to keep gulping it down. If that still doesn't motivate you enough, you can try adding flavours to your water. You may want to avoid lemon for the moment if you know the citrusy sensation can potentially irritate your stomach. Instead, add a cube (or several cubes) of gentler fruits like watermelon and apple. Those still won't cut it for you? Get sugar-free drink mixes!
Make Food Fun
At this point, you just have to make do with what you have. Even if you have the most plain leat meat waiting for you in the kitchen, you can still work with that. Be creative. Spice up your sandwich and more colours and flavours to it. Explore your kitchen and let it have a say in what you can use. No idea where to start? Try making your own version of stuffed breast chicken. Fill it with colourful vegetables immersed in savoury sauce. You can also create a homemade salad dressing which you can practically pair with anything. This is even more fun to make because you get to create it according to your own taste.
You May Also Read this : Things to Prepare for Your Confinement Period
One Per Week
Undoubtedly, restricting yourself from eating your guilty pleasure foods is hard for anyone. If your food choice for it is not extremely harming your or your baby's health, we say you can have them. Well, maybe not always. Just sometimes. Perhaps a little less than sometimes, like once a week or every two weeks. This is pretty much a rule that you can set for yourself to follow throughout the confinement period. Eat anything that you consider your guilty pleasure foods such as chocolate, muffins, and cookies, but only ONE piece and ONCE a week. Nevertheless, keep it healthy by sourcing for the organic ones. Even better, make them yourself from scratch. If you crave for processed food, try not to pick the totally unhealthy ones. This kind of food can be high in unhealthy fats and contains a load of salt that would worsen your baby weight. Satisfy your cravings responsibly.
We hope the tricks and tips above will come in handy for you! We strongly believe that confinement food after delivery should be as happening as other regular food out there. Do browse through our menu to get an idea of how colourful your everyday confinement meals can be!