Why You Shouldn't Starve Yourself During Confinement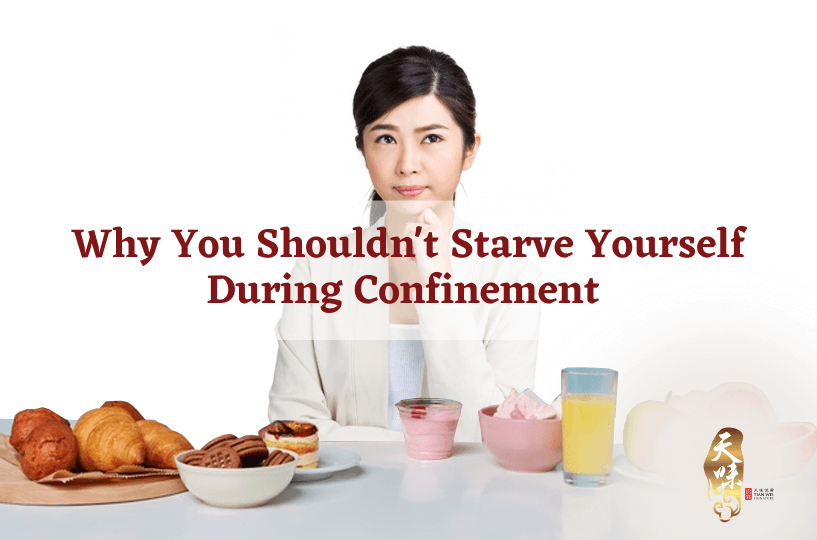 Most mothers are looking forward to returning to their pre-pregnancy body after childbirth. So it's not really surprising to see that some moms work hard to shed those extra kilos gained during their pregnancy. However, while it is important to lose excess weight, going on a diet right after childbirth is not the way to go! Your body has just undergone a rigorous process in pregnancy and childbirth so it will not be wise to starve yourself during confinement. With that said, what are the reasons behind it? You might want to read this piece to the end!
You Need The Nutrients
Having your body properly nourished and well-fed is the key to a smoother postpartum recovery.   Mothers are at higher risk of malnourishment postpartum. Their bodies have been supporting a baby's growth for the past nine months, probably had a labour marathon to give birth which takes up a lot of energy, wounds to heal, nourishing a baby another six months through breastfeeding, sleepless nights and so on.
Suddenly, nourishing yourself can easily be the last thing in your list of priorities. Thus, starving yourself from getting the needed calories and nutrients contained in your meals would be counterproductive to your cause. Nutrients in food such as Vitamin A, Vitamin B1, Vitamin B6, Vitamin C, Vitamin D, Vitamin E and folate, iron, calcium are great for your postpartum recovery. 
For example, Vitamin A helps in improving your collagen formation to promote wound healing around the genital and caesarean are after labour. Vitamin B1 keeps you energized to support your nerve, muscle and heart function and helps to build a good immune system. Vitamin B6 is part of the main nutrition that helps in developing a good immune system.
Meanwhile, Vitamin C helps in improving collagen formation to promote wound healing. Vitamin D is involved in providing good bone health and a good immune system, and having an adequate intake may reduce risk of postpartum depression.
On the other hand, Vitamin E functions as an antioxidant that helps to prevent damage to your body tissues and reduce inflammation, which over time lowers your risks of various medical conditions. Other than that, folate helps in forming healthy red blood cells while Iron serves as an essential nutrient to develop new red blood cells and prevents anaemia. Last but not least, calcium helps in maintaining good bone health and nervous system.
Hence, you should always be sure to foster a healthy eating habit and practice a well-balanced diet so that your body will be able to gain the nutrition it needs.
You Need The Calories
Calories are not necessarily bad for your body, they will only become harmful to you if you consume bad calories or more calories than you need. They are the fuel that keeps you going. Most moms need an estimated amount of 1,800 to 2,200 calories from their daily meals intake. Therefore, starving yourself or limiting your calories during confinement would only make you more fatigued and drained faster. Foods such as almonds, nuts are great energy boosters and they are healthy as well! These options are  packed with nutrients and energy that will keep you full for the time being.
Moreover, fruits such as bananas make for great energy boosters to keep you energized throughout the day. It contains Vitamin B1 which keeps you energized to support your nerve, muscle and heart function. It is also worth noting that without calories as your fuel, you will be running empty throughout your daily routine and that would invite potential side effects for your long term health. Hence, it is important to keep yourself properly nourished!
You May Also Read this : Best Nourishing Foods to Have in Your Confinement!
Food Improves Your Mood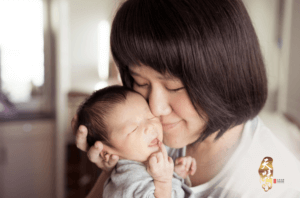 Another reason why you shouldn't skip meals or starve yourself during confinement is that it can affect your mood. Most moms usually focus on having nourishing food that can help with their physical recovery. While taking care of your physical health is certainly important after childbirth, do remember to show your mental health some love too. Mood-boosting foods such as whole grains, fish, green vegetables, fruits and nuts would be key in keeping your mind calm, happy and satisfied. A diet rich in these types of food helps to build a healthy gut with good bacteria. When good bacteria thrive well in your gut, it produces short-chain fatty acids which promote anti-inflammation to our body. Besides that, a diet such as this would also provide high antioxidants and polyunsaturated fats that are anti-inflammatory to our body. Such an environment helps to reduce inflammatory markers that are in our brain and therefore improves our mood.
Moreover, having mood-boosting foods such as healthy fats in Omega 3-DHA from eating fish is key to treating postpartum baby blues and hormonal fluctuations that occur during the first two weeks after childbirth.
Based on recent studies, individuals who have more Omega-3-DHA rich fish in their diet are less likely to experience depression symptoms. Salmon is one of the best sources for Omega-3-DHA Fatty Acids. Aside from being a great mood stabiliser, salmon is rich in Omega-3-DHA Fatty Acids to improve memory, maintain cardiovascular systems, as well as supporting the functions of the brain and general well-being for you and your newborn as well.
The World Health Organization (WHO) current recommendations for nursing mothers are 200mg of DHA per day which can be easily achieved by having 2 to 3 servings of Omega 3-DHA rich fish per week. Some of those fishes that can easily be obtained from our local grocery stores and eateries are salmon, mackerel, skipjack tuna and seabass. What better way to improve your mood than healthily eat your way out?
Studies have shown that people commonly feel an upsurge in anger whenever they feel hungry. Thus, this was how the term "hangry" was coined. Your brain runs on fuel or calories when it comes to regulating emotions and anger is the most difficult emotion to control. Therefore, a good helping of mood-improving foods would work wonders on yourself.
Food Help You to Breastfeed Better
Last but not least, you should never skip meals, starve or limit your calories during your confinement because your little darling's main source of nutrition depends heavily on it. If you are not eating well, you will be at higher risk of being malnourished. You will tend to feel tired easily and fall sick often which may disrupt your efforts to continue to breastfeed your little one. Moreover, being malnourished may also affect your breastmilk supply. 
Having a balanced diet packed with lactogenic ingredients will be great in helping you breastfeed better. A meal rich in ginger, garlic, and fenugreek will be essential for your breast milk supply, and your child's development as well. 
Ingredients such as ginger is a key factor in warming up peripheral temperature presumably by the effect of vasodilation, a mechanism that may explain the possibility to boost milk production through increased blood supply for the lactating breast. In short, ginger improves your blood supply. Therefore, consuming ginger as your lactogenic foods to increase milk supply will help you breastfeed better.
On the other hand, meals that are packed with garlic affect the taste and smell of human breast milk and amniotic fluid. This will encourage your child to spend more time being attached to your breast and feed more. While garlic does provide a pleasant taste and odour to your breastmilk, garlic flavours only influence infant suckling during initial exposure. Another galactagogue ingredient is fennel. It ensures smooth milk flow by reducing inhibitory effects of other hormones (dopamine) on breast milk production. You might want to get familiar with these lactogenic ingredients as best as you can!
Furthermore, consuming confinement foods rich in Vitamin A, Vitamin B complex, Vitamin C, Omega 3 is good for improving the nutritional value of your breast milk. For example, Vitamin B6, B12 and B1 in your milk supports brain development and establishes a good immune system for your newborn. 
Consuming lactogenic foods is not the only way to improve your lactation, a good choice of breastfeeding tools could ease your lactation issue too. For more options on breast-pumps or breastfeeding-related tools, we would suggest MumChecked for your convenience.
At the end of the day, getting enough nutrients during your confinement would do wonders for your body. Losing the weight gained during pregnancy is important. But do take your time to recover and pay attention to your nutrition!