Foods That Dispel Wind From Body Of New Mothers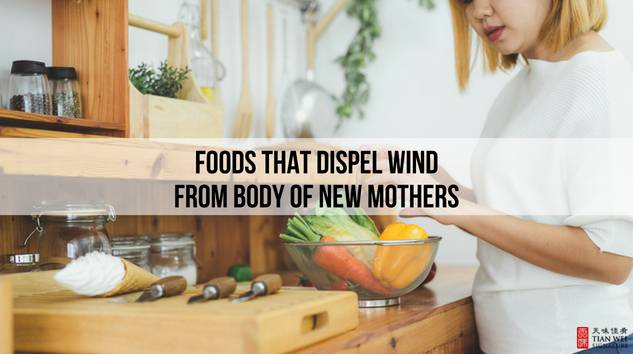 One of the primary reasons for the confinement practice is dieting. New mothers are put under a special diet that is meant to rejuvenate the weakened body, quicken regeneration of damaged tissues, and dispel 'baby's gas'. You, as a new mother, are kept under strict routines and restrictions, ensuring recuperation occur within the shortest period possible. The confinement span shields you from detrimental environmental factors, like wind and damp air, which can cause pain.
---
Bloating is common among lactating women. You feel the discomfort of excessive gas in your stomach. The gases can lead to a suppressed appetite and, in some instances, pain. Eating the best confinement food or avoiding some dishes altogether can reduce the probability of 'wind'. Apart from the food you eat, the way you eat or drink can lead to bloating. Eating hastily or using straws is a perfect way for gas to enter your stomach. Observing the right diet is the primary way of dispelling wind. Here are some Chinese confinement food that will help you do just that.
---
Ginger
During the confinement period, you have to put up with having ginger in most of your meals. It is one of the essential ingredients found in many traditional dishes of the ritual's diet. The benefits of ginger are unbeatable. Their roots will assist in digestion, ease nausea, release gases, and reduce stomachaches. The enzyme zingibain found in this species helps in the breaking down of proteins. Ginger also increases body warmth and detoxifies the body to enhance healing. Consequently, you are shielded from rheumatism and other probable conditions.
---
Oats
Oatmeal is ideal because of the high fiber content, helping you in digesting your food. The ingredient helps in eradicating constipation. Consequently, the chances of bloating are reduced. You can have the food served in the morning before taking anything else. You will have an easy time throughout the day and with no stomach upsets.
---
Peppermint tea
Cramping of the intestine is the cause for wind. The peppermint is ideal for relaxing alimentary muscles causing a spasmolytic effect. Apart from tea, you can opt to chew candies or take oil from the same product. The same results will be achieved. However, this ingredient can cause sensitivity. Therefore, it is advisable to consult your physician before you use it. Peppermint should not be consumed by infants or individuals having gastroesophageal reflux condition.
---
Sesame oil
Most confinement meals are prepared using sesame oil. The oil has several benefits, including dispelling wind, anti-oxidation, and anti-depression, which makes it suitable for mothers prone to PPD. The ingredient also reduces constipation and stomach upsets, allowing you to have an easier time with your newborn. Apart from the soothing effects to your stomach, sesame oil has vital minerals and vitamins. Some include phosphorus, calcium, iron, and vitamin E. The nutrients enhance the process of healing and facilitate blood circulation.
---
Pineapple
This list would be incomplete without a fruit. Like ginger, pineapple contains enzymes that assist in the digestion of proteins. Bromelain reduces inflammation and bloating by soothing your stomach to keep you comfortable. It also contains crucial minerals, like potassium, which help in getting rid of excess water from the body, and at the same time dispel wind, which can make life after childbirth hectic.
---
Sheng Hua Tang
This is a formula that is tailor-made for women who undergo the C-section. It not only helps in healing the wound but also dispels excessive gas from the intestines. It contains ingredients like Chinese Angelica, roasted licorice root, and lovage roots. Sheng Hua Tang is definitely one of the popular traditional remedy during confinement where it could effectively help mothers to discharged lochia naturally, promote blood circulation to relieve pain and to generate new blood from the loss of blood from the process of childbirth.
You May Also Read this : Five Nourishing Meals for New Mothers
---
Your health as a new mother should always be the priority. You should understand the importance of keeping a balanced diet and what to avoid. Drinking fizzy drinks, using straws, and chewing gummies can cause accumulation of gas in your stomach. Therefore, you should avoid these drinks or habits for a fast recuperation.  
---