What To Eat After Miscarriage For Fast Recovery?
Words rarely capture emotions nor encapsulate what is actually going through our minds and, especially more so, in times like these when a miscarriage is involved.
We all process emotions in our own individual ways. From busying ourselves in work and bingeing on anything to everything whether it be multiple Netflix serials back to back or snacking on a weaponised boat-load of crisps.
Let's repeat it as a sort of mantry – This is all perfectly normal and natural. Once again, let's remind ourselves, we all process things differently.
However, one thing we might not process all that well is…well…all that crisps.
Now, this isn't meant to disparage or to chide you for munching on all those little potato chips. We're moving into nutritional concerns territory now…which is, after all, the main point of today's blog topic.
So, without further ado, let's do further and delve right into the first type of food that you'll want to be really looking out for and putting in your diet:
Foods Rich In Iron
If you're the queasy sort, now might be a good time to stop reading.
No? You're still reading? Alright, we tried warning you.
There is a lot of bleeding following a miscarriage.
Ladies should eat iron-rich foods during this time. Bleeding depletes the body's iron stores, which can lead to anaemia. It is also very natural to feel fatigued and weak following a miscarriage. 
Iron-rich foods include beans, green leafy vegetables, pulses, pumpkin seeds, brown rice, innards, pork, chicken, eggs and beef.
If you're looking at our Tian Wei menu, then there's the Braised White Vermicelli with Pork Liver, Stir Fried Snow Peas and Pork Liver with D.O.M, and our Fortune Herbal Chicken (G), just to name a few dishes that are high in Iron.
Also, to cover all bases, if you are still consulting with your doctor, be sure to also check your iron levels. You wouldn't want iron deficiency, after all. What your doctor might advise is to take some iron supplements as well. Note that that's what we logically think that your doctor might advise. Don't just take our word for it, actually consult your doctor to be sure that there's no underlying health issues that need attending to.
Adequate Hydration
Next up, we have the need to keep ourselves properly hydrated.
It is said that the human body is mostly made up of water (mostly, not wholly). So, it should be no surprise then that blood loss also counts as fluid loss. Then there's a possibility that your body will start lactating on its own which contributes as well to more fluid leaving your body…not to mention all those tears you've been leaking lately.
Now, while Iron and Vitamin C can help with rebuilding your body and healing wounds, all of that is for nought if you are severely dehydrated. Just a little side note here, dehydration can cause constipation and headaches. So, feel free to keep a bottle of water nearby to sip on at regular intervals.
Say that water is too bland and you'd like something more nourishing, like Chicken Soup for the soul. Well, we might not have plain old chicken soup, but we do have King Oyster Mushroom Chicken Soup, Fish Maw Nourishing Soup, and Pork Ribs Soup With Shimeji Mushroom, just to name a few soupy dishes that also happen to be a tasty way to rehydrate yourself.
A Mediterranean Diet
Now, if you've ever been to the Mediterranean, then you'll know their diet has a lot of seafood. A whole lot of seafood. In fact, there's more seafood there than in, say, a Middle Eastern Diet. However, don't be taken in. It's not all seafood. There's also fruits, vegetables, herbs, pulses, plant-based protein, nuts and olive oil abound in a Mediterranean Diet!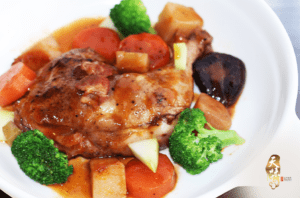 A typical Mediterranean diet like that would see you having more fish or seafood (at least twice a week) with plenty of assorted fruits and vegetables every day. Naturally, such a diet would be rich in antioxidants and contain sufficient Omega 3-DHA which helps to reduce the risk of depression. 
Similarly, taking the principles of the Mediterranean diet, Tian Wei Signature menu provides fish dishes at least twice a week! Some of our fishy dishes (fun way for us to classify our Tian Wei dishes that contain seafood) include the aforementioned Fish Maw Nourishing Soup, the Thai Lemongrass Fish, Fish Fillet with Lemon Beurre Blanc, and the ever-popular Fenugreek Green Papaya Milky Fish Soup.
But wait, that's not all! We even provide our awesome Mediterranean fusion-inspired dishes like:
Seared Salmon with Cauliflower cream

Tian Wei Signature's Coq Au Vin

Moroccan Braised Chicken
In your own time, when you feel up for it, seek help from a counsellor to recover emotionally. As for physical recovery, you might want to speak to a dietitian to obtain some personalised nutrition advice in order to prepare yourself for your next pregnancy.
Closing words
With that, we have come to the end of our guide on what food to eat after miscarriage. Now, if that was a lot to take in and digest (pun not intended), then how about we make things easier for you by recommending a balanced confinement diet wherein every nutrient and vitamin is found within.
For such a thing, you need look no further than Tian Wei Signature. 
Yes, we deal in confinement meals that are as varied as they are nutritious for any woman recovering from the pains of childbearing. 
Take some time off and let us cook for you while you recover and taste the flavours of our traditional Chinese confinement menu as well as our exciting fusion dishes, all of which are lovingly crafted and guided by our dynamic award-winning chef and certified dietitian combo!
So, rest assured and recuperate in the knowledge that you will most probably be eating the best food for confinement in Singapore. 
Now, if that piques your interest, head on over to our homepage to browse through our menu and see what confinement food Singapore mummies love.