Confinement Meals: To DIY or Book?
Are you currently planning your confinement? What are some of the important aspects of it that get you scratching your head or make you feel at a loss?
Let us guess it: your daily confinement meals!
Planning Confinement Meals: A Common Struggle
For many mothers, they may find themselves having to care less about their own recovery process because they would be too occupied with the presence of their baby.
Regardless, while many other aspects can still be put aside without harshly taking a toll on you, the confinement diet plan should never be taken lightly because the effects of following a poor diet, especially during the critical first month after childbirth, are simply unforgiving. Not to mention, if you follow a well-balanced diet, it can help a lot in both your birth recovery as well as your baby's growth.
So now that we know you HAVE to follow a balanced confinement diet, what next?
Confinement Meals: DIY or Book Confinement Meal Delivery
One common struggle mothers face during their confinement is whether to opt for a meal catering from a catering company or to prepare everything on their own time and effort.
Of course, one can argue that nothing beats preparing your own meals because you get to cook it in any style you prefer, adding in extra ingredients for extra flavour.
As tempting and delicious as this sounds, sometimes, just an extra chore such as preparing meals can add unnecessary stress on new mothers. After all, even a chef who loves cooking sometimes needs a break from cooking.
With a crying baby, needing attention every few hours, you may barely get any rest for yourself. Imagine an extra load on your shoulders, waking up earlier than usual to prepare your meals for the day.
Next thing you know, your baby is wailing when you are trying to cook your confinement meal. You will feel torn while preparing your meals and caring for your baby at the same time. Newborns do take up a lot of our time and energy especially during the first few months.
How We Understand & Help
Tian Wei Signature was started with the aim of enlightening the burden on new mothers so that they can focus on what's important. Guided by our own in-house dietitian, our meal plans are very carefully thought out because we understand that you would need as much nutrition as you can get during the confinement period.
We have a professional certified culinary team dedicated to creating fusion dishes with various ingredients and herbs that can provide nourishment for the body during confinement.
From the Wok of Our Chef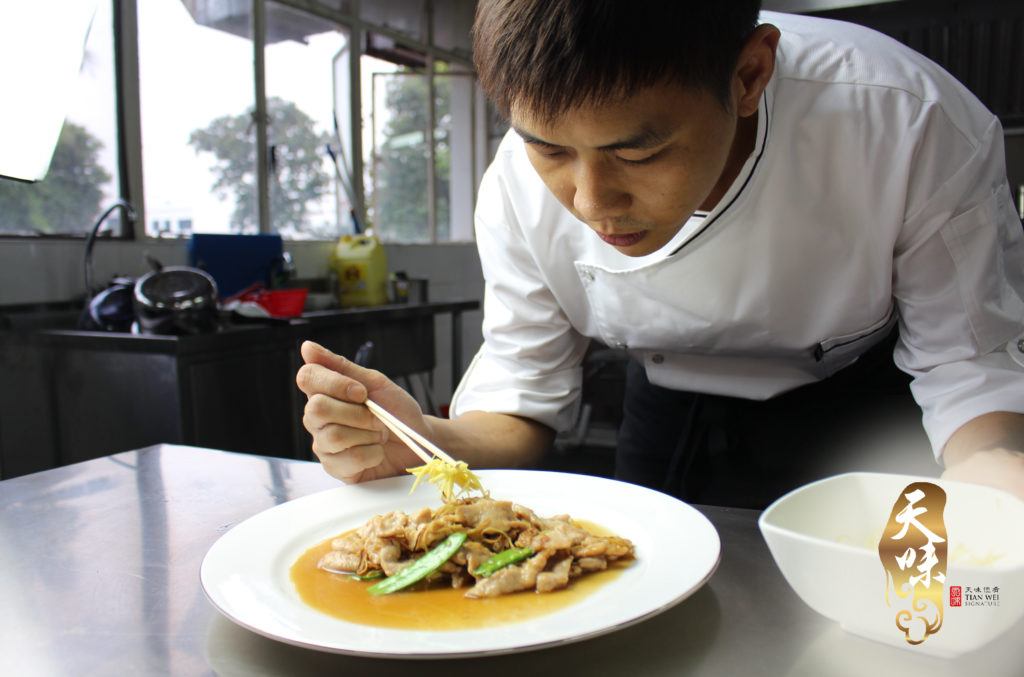 Chef Eugene gives his assurance that all the ingredients, herbs, and spices used in the preparation of confinement meals are fully suitable for consumption during confinement. So, if you're concerned about this area, worry not, we make sure to only use ingredients safe for consumption during the confinement period.
Why Fusion, you may ask? Fusion cuisine combines different elements from various cuisines, making them more acceptable to our taste buds. We prepare a number of our meals in the Fusion style so as to provide you with different varieties in your catered meals.
So, while your meals are prepared with the essential Chinese herbs and spices, the taste may vary from Japanese to Western giving your palate a different experience in each meal. Of course, if you miss homely flavours, you can still look forward to our selection of Chinese confinement food!
At Tian Wei Signature, we understand the importance of breastfeeding and the need to have adequate milk supply during the breastfeeding period.
With the research and advice from qualified nutritionists as well as our own dietitian, the enthusiastic team of chefs then create a meal plan ensuring that every meal is deliciously packed with all the essential nutrients that can help in boosting lactation.
Food is also delivered in a thermal bag so that customers get to enjoy their food while it is still warm.
What Customers Have Said About Us
We are so lucky to have received countless excellent praise and reviews from our many satisfied customers, which greatly boost our motivation every day! perhaps due to being led by our chef's creative mind and hands, we've specifically received a lot of positive feedback commending our culinary team for our ability and competency to concoct dishes of various styles while still maintaining the necessary nourishment in every meal prepared for our valued customers.
Here are various reviews of our meals and services!
Review #1
"I have ordered a 28-day confinement meal package from Tian Wei. I have being eating it for 27 days already. I would like to recommend the confinement meals to new moms. 1, the food is hot, freshly prepared, and the taste is great. The menu is readily available on website. The soup is very hot and fresh. 2, I like their variety of dishes, meals don't repeat easily. 3, the food arrives on time. 4, the red dates drink isn't too sweet. Overall I would say Tian Wei signature is a good option for confinement, it is value for money. I would like to order again if there is a next time. thank you for brining the great food to me!"- Jolene Guo
Review #2
"I'm in love with Tian Wei Signatures. The food is always on point every single day. The portions are generous and more than sufficient for a big eater like me. Food in healthy and balance without lack of flavour. I really feel the difference from having proper confinement food since having my second as compared to after my first pregnancy. The energy you get back from proper nutrition is really important. Plus, I'm very picky with food and have tonnes of requests (from allergies to intolerances), Tian Wei signatures never once rejected me and was always willing to accommodate to my dietary restrictions. I'm only sad that I can't extend the meals pass my confinement period as I'd love to have their meals everyday instead of my own cooking."
– Tess Thea Wong
Review #3
"My wife on confinement is satisfied with the food. Different variety of food daily, cooked and catered well for confinement mums. Less oily and first 2 days had provided the Sheng Hua Tang to cleanse the body and wind. Well thought specialized catering. Thanks."- Kenray Lloyd Tan
For more reviews, simply head to our Reviews Page!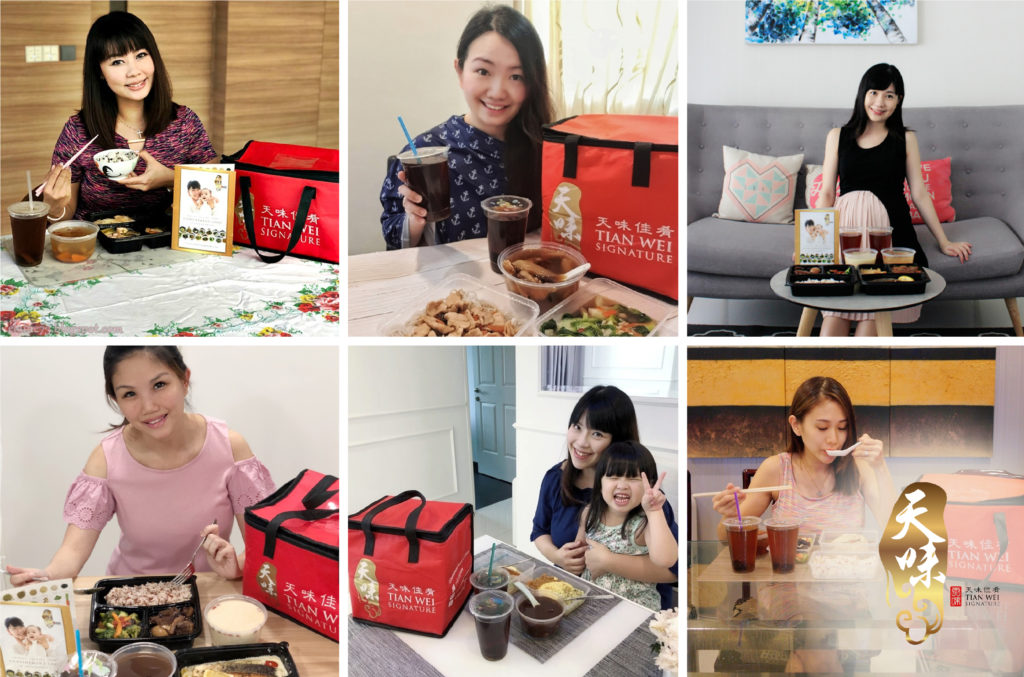 With such convenience available, you can now put your mind at ease and you do not need to worry about your confinement meals anymore! Every meal that comes out of our kitchen is meticulously planned and delivered fresh to your doorstep each day, just like how it would be coming out of your own home kitchen.
As the saying goes, time is of the essence. So mothers can now spend quality time with their newborn, and let meals be the least of their worries.
Looking for a confinement meals Singapore delivery service chosen and trusted by thousands of mothers? You know where to find us!