How Much Is Confinement Food in Singapore?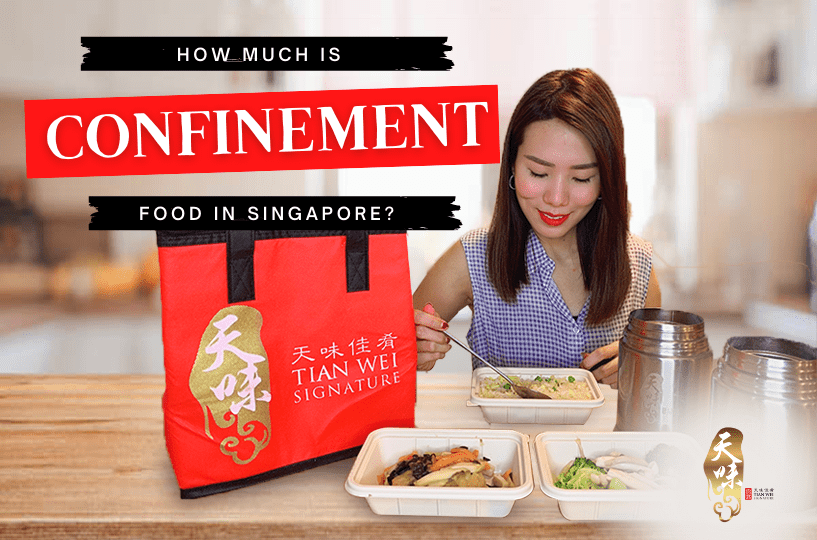 The confinement period is the time for a mother to rest and recuperate from pregnancy, labour, and childbirth while also preventing any ailments or having a weaker body. As it typically ranges from a month to two, it is a relatively short period compared to the 9 months of pregnancy, so it is a crucial period for women to get proper nutrition to recover and to nurse her baby. Hence, confinement food plays a vital role in the process of a woman's recovery after she has given birth.
However, how much exactly does confinement food cost in Singapore? Is it more affordable to book confinement meals? Or is it more reasonable to have home-cooked confinement meals? Well, it really depends on a couple of things such as the service provider and the duration of the package, but in Singapore, it generally ranges from around $480 to around $1,700, including delivery.
To get into the details, let's take a look at some factors that can affect the price of a confinement food package, and from there you'll be able to decide for yourself if it is worth it signing up for a package, and if yes, which kind.
a. The number of meals delivered per day
Some people opt for just one meal a day as their confinement food package, whether it is confinement breakfast food, lunch, or dinner. But others may prefer to book more than one meal a day to cut out the hassle of food preparation and leaving it all to service providers. So, of course the latter package would be more pricey. The upside though is that you do not have to worry about your next confinement meal as it is sure to be nutritious and on time. Take for instance Tian Wei Signature where if you sign up for the package with both lunch and dinner, we make two trips every day right before mealtimes so that each meal is delivered fresh and warm to your doorstep. 
b. The duration of the package
Although the confinement period is usually seen as a one-month experience, it really depends on the individual. This applies to the duration of your selected confinement food package as well, whether you wish to sign up for one as long as you plan to do your confinement or just a portion of it, so that is how the pricing can differ. Sometimes, a package of longer duration costs more reasonably as compared to one of a shorter period, so you may take that into consideration too. But in the end, it is up to each mother and her needs, and confinement food providers like Tian Wei Signature is able to match any of the duration whether it is just a simple trial meal set, the 7-day package, the 14-day package, the 28-day package, or even the weekday package. 
c. Whether the service provider provides any discounts
Discounts are probably one of the biggest perks to any service as it often gives significant savings to any purchase. It is no different with confinement food Singapore. It pays to check and do some research on service providers' offers before narrowing it down to your final choice. For example, Tian Wei Signature offers an Early Bird Discount on packages – the only catch is needing to book the package you want 1 month before your estimated date of delivery, and you stand to enjoy the discount, which actually goes higher the longer the package duration.
d. Whether you decide to add on any other products along with the confinement meal package
Confinement meals can be as simple as just lunch and dinner, and perhaps accompanied by confinement herbal soups. However, as great and simple as confinement meals are, oftentimes there are equally as amazing add-ons that you might like. So it goes without saying that adding on extra items to your confinement meal package will increase the price as well.
Now, what you can add on differs with each service provider. In Tian Wei Signature's case, we have a couple of select items such as desserts like bird's nest and food that helps with lactation like green papaya fish soup. Not only that, we also offer bathing herbs for faster recovery and even bentos which can be purchased for your husband or other family members so you can all enjoy each nutritious meal together. 
If any of that sparks your interest and you still have some time before your due date, why not take a look at our booking page to find out more about our packages and prices? You can also browse through our menu to see what kinds of confinement food Singapore we offer and if they strike your fancy. 
Should you need further information, do not hesitate to contact us via phone, email, or chat, and we'll gladly answer your questions.